---
The 19th Annual CANstruction Reno Design & Build Competition, benefiting the Food Bank of Northern Nevada, is here!
This year, 12 teams will use more than 24,000 cans to masterfully create canned food structures that will leave you wondering "HOW did they do that?!"  When the structures are taken down, all the food used to create them will be donated to the Food Bank, providing more than 17,000 meals for our neighbors in need.
It all begins with a 12-hour building day on Wednesday, May 11.  Structures will be up for viewing at Meadowood Mall through Sunday, May 15. One very important and highly sought award will be up to YOU – the People's Choice Award will be presented to the team with the most votes cast during the week-long voting campaign.  Online voting opens at 8am on Wednesday and closes at 6pm Monday, May 16. Every vote costs $1, with all proceeds from voting benefiting the Food Bank of Northern Nevada.
Voting for the 2022 CANstruction Reno People's Choice Award has ended.  Congratulations to all of this year's winners.  We can't wait to see you all again in 2023 for the 20th Annual CANstruction Reno!
Team 1: Depoali Middle School | Wash Away Hunger
Hunger is a stain on this world. Depoali Middle School students and the Food Bank of Northern Nevada want to wash away hunger. We chose the washing machine design because a washing machine represents something that needs a fresh start, and we want to clean up hunger in our community. When we wash away hunger, people can thrive and live their life without wondering where the next meal is coming from. The average American family washes 300 loads of laundry a year (Energy Star). The national average cost to wash one load laundry is $2.00. (National Laundry Equipment). One load of laundry can provide 6 meals for those in need. The laundry room of cans displayed will create 1,083 complete meals for families in need. Depoali Diamondbacks not only want to "shout-out" hunger but STRIKE it out. Imagine the hunger stain we can remove!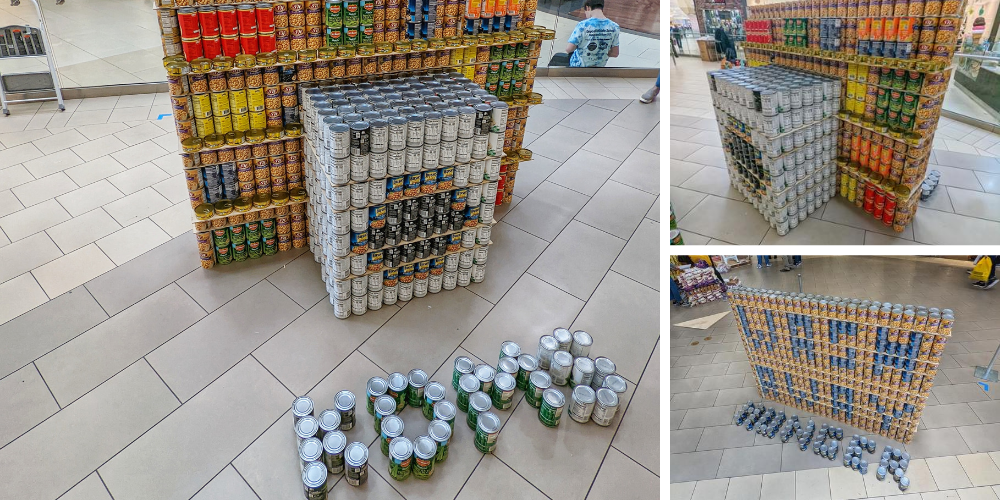 Team 2: Food Bank of Northern Nevada Staff | The Biggest Little Lunch Box in the World
The Food Bank of Northern Nevada is like the lunch box for the entire community, carrying nutritious food to children, families and neighbors who can use just a little help from time to time.  The community support that you offer is like the jam to our peanut butter, making our community a healthier and happier place to be.  You fill our thermos with hope and your generosity makes you the apple of our eye.  The community says THANK YOU for filling their lunch box and making a lasting difference in their lives.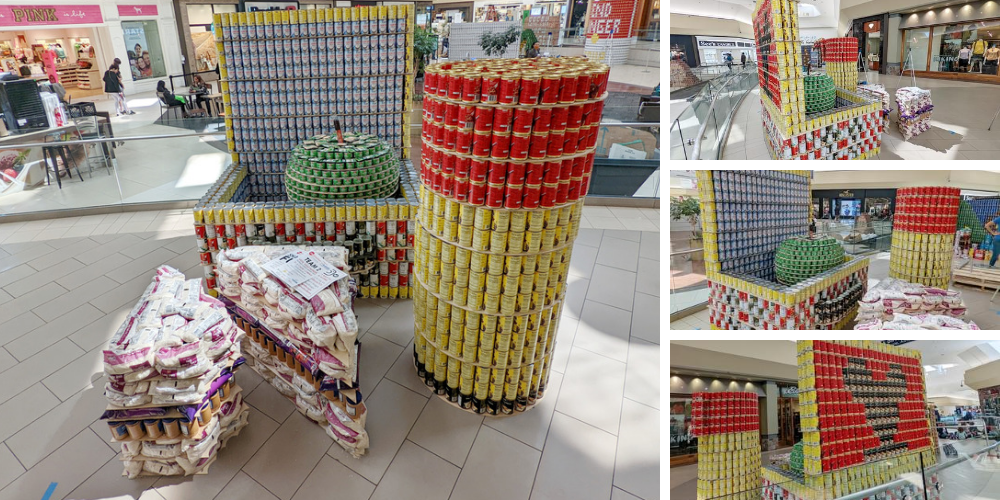 Team 3: Brookfield 4h – the Brookfield 4 Musketeers | Bent on Hunger's Destruction
WINNER: Best Meal
Our construction project, as the Musketeers, is to make Godzilla stomping through a city.  We will make a wall of cans that feature the outline of Godzilla with a skyscraper background and the a 3D city scape featuring buildings, roads and cars made out of various non-perishable materials including more canned foods.  The 3D area will be multi-colored.  Godzilla will be green (Fresh Cut green beans) against a dark blue night sky (La Choy bean sprouts) with brown buildings (Manwich-original sloppy joe sauce) and yellow windows (Sun Vista pinto beans).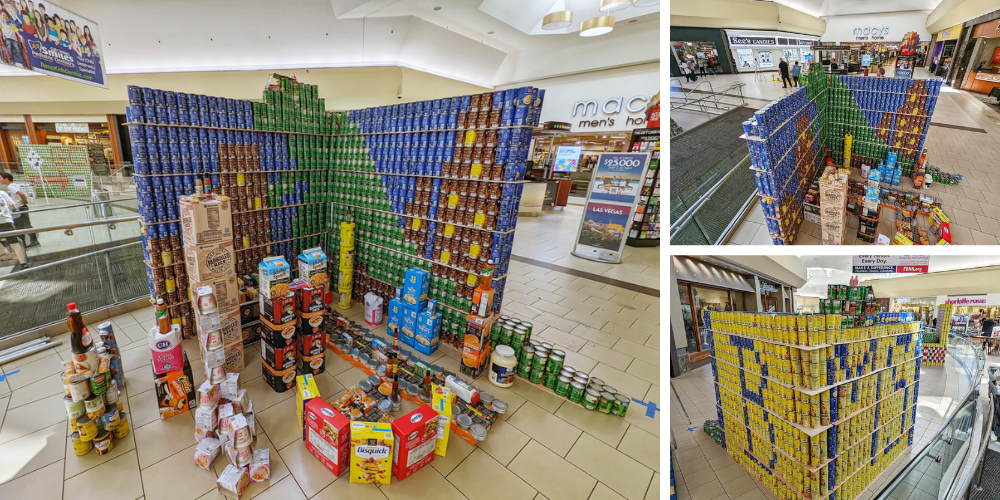 Team 4: Sage Ridge Middle school| Everyone and Ukraine
Our sculpture is a representation of the Ukrainian cause in joining the European Union and the necessity of support from the rest of the world. We took the iconic image of France's Eiffel Tower, and adorned it in the colors of the Ukrainian flag, hoping for bright skies ahead. We at Sage Ridge are looking to highlight one of the gravest humanitarian crises of our time, whilst also supporting the ever-present need to feed those in need. Spreading awareness to the "tune-a" justice, the sloped sides and peak of the Eiffel Tower are made of short, sky blue tuna cans, with golden trim and fenced-in viewing platforms of bright yellow cans of refried beans.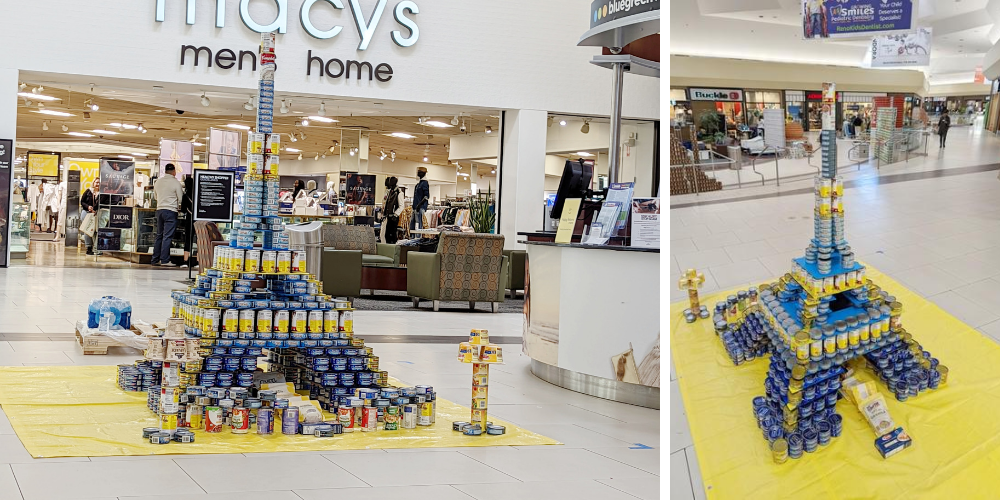 Team 5: Sky Ranch Middle School blue team with pk electrical| Obi Wan Can-obi
WINNER: Best Use of Labels
A Long, Long time ago, in a galaxy full, full of cans…. OBI-WAN CANOBI. In a desperate time, a hero is here. Obi-Wan CANnobi is made of cans. He can defeat any evil. Even the dreaded RECYCLE Grievous is no match for him. He protects all the people of the galaxy. He learned everything he knows from the amazing Jedi Qui-CAN Jinn.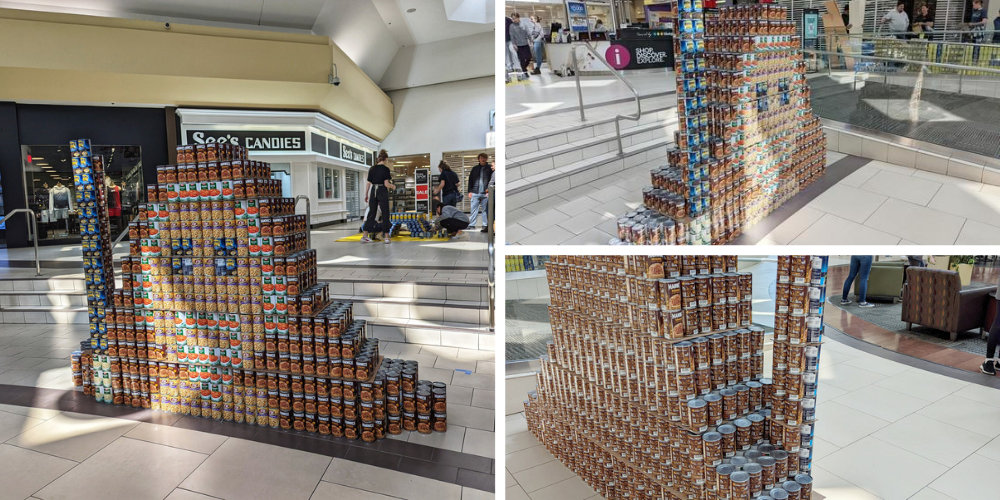 Team 6: Sky Ranch Middle School Orange team with pk electrical| Monopoly Bankrupt Hunger
You won second prize in a beauty contest. Collect $10! Now that we caught your attention, we've recreated one of the most well-known board games… CAN-opoly! CAN-opoly is based off Monopoly, a multi-player economics-themed board game. The front displays, "Go", the first square on the Monopoly board. The back has the saying "Bank-Rupt Hunger" with multi-colored accents to take a trip to Boardwalk. Go on, roll the dice, and vote for this can-structure!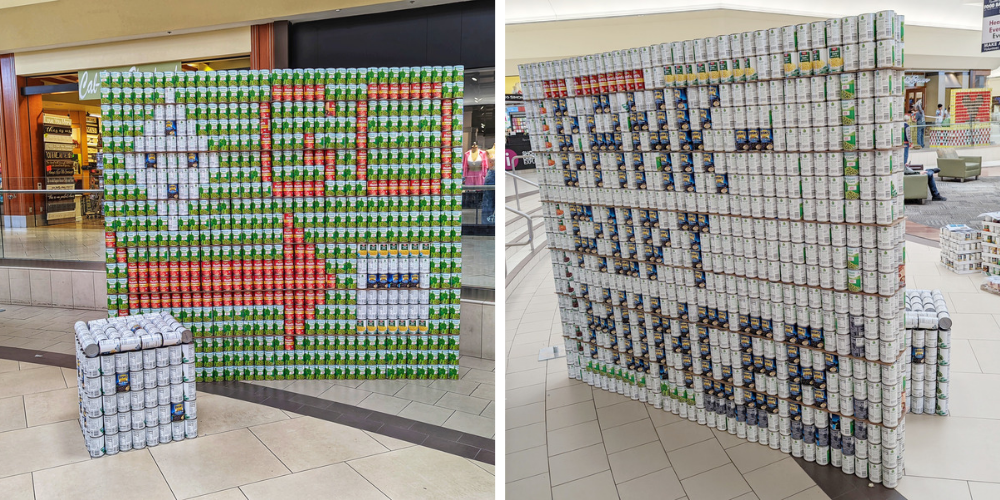 Team 7: AT&T Silver STate Pioneers/VC Silver Circuits FTC Team #16158| Campbell's & Community
WINNER: Best Original Design & People's Choice
The AT&T Silver State Pioneers/VC Silver Circuits FTC Team #16158 team chose to replicate the iconic Campbell's Soup can image. Campbell's has made its way through decades of family meals, pop art and now under CANstruction, these cans are a call to end hunger in northern Nevada.  Built from a total of 1,970 cans, our abstract represents the classic red, white, gold, and blue soup can colors.  Cans stack and spiral in a dynamic pattern as diverse as our community's needs.  Our team advocates supporting the end to food insecurity throughout our region.  In addition to recent food drives at AT&T work locations, we've come together to eagerly donate our time and talent to compete in this year's CANstruction event.  Volunteerism and serving those in need is the very heart of what AT&T Pioneers do.  As ageless as the Campbell's soup image, is the continued demand to support our communities.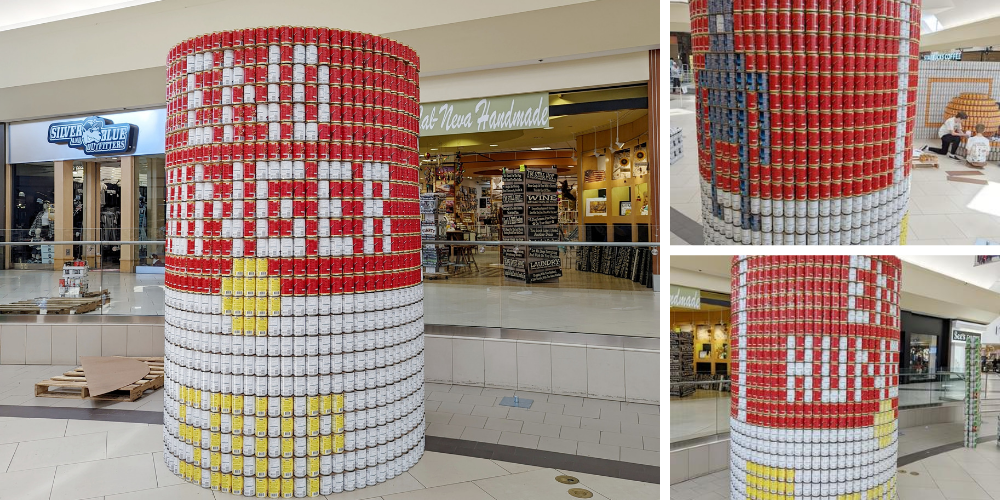 Team 8: Mountain View Montessori School| Nessie the Loch Ness Monster
WINNER: Structural Ingenuity
Our structure is Nessie the Loch Ness Monster. Nessie is believed to be a dragon that lives in a lake in Northern Scotland. Some dragons are like snakes, and they slither, so we wanted to make curves to make it look like she is slithering along in the water. We added one prop on her head, to make it look like she has her frill ears or fins. Nessie was chosen because she is a unique mythological dragon. Nessie is commonly seen as a dull bluish-gray. We wanted the design to have more color and be vibrant, so we changed the colors to bright green and bright yellow.  Nessie is made of Del Monte Fresh Cut Chopped spinach, her underbelly is made of Del Monte Sliced Peaches. We have "water" surrounding her for more definition, made out of Winco Jasmine Rice, Winco Great Northern Beans, and Dasani water bottles.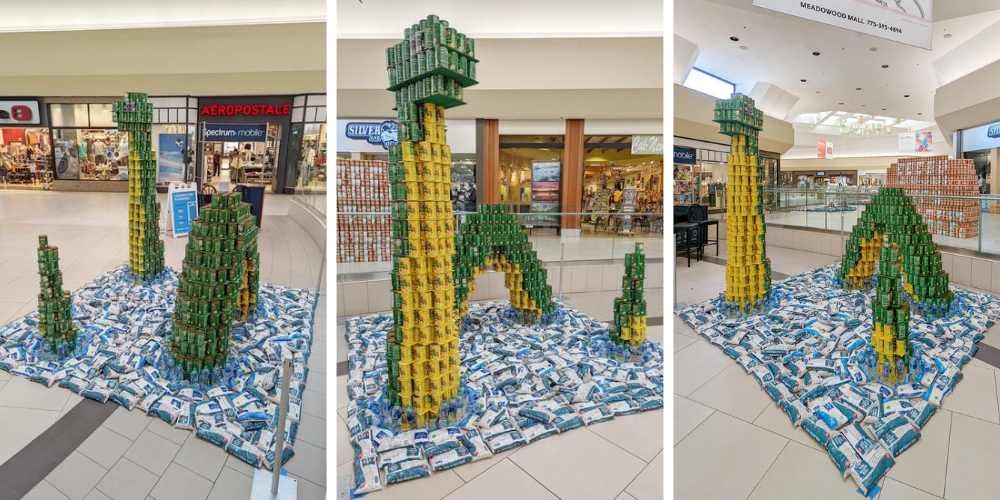 Team 9: Marce Herz Middle School| Slam Dunk Hunger 24/7!
WINNER: Most Cans (4,345 cans)
On and off the court, hunger is no match for northern Nevada. The Service-oriented students of Marce Herz Middle School will RISE to the challenge and give the Food Bank an assist to slam dunk hunger 24/7. Using a variety of food items, the Relentless and Empowered MHMS students will bring the Innovative design of a basketball hoop to life. Together as a team, we can beat hunger one slam dunk at a time!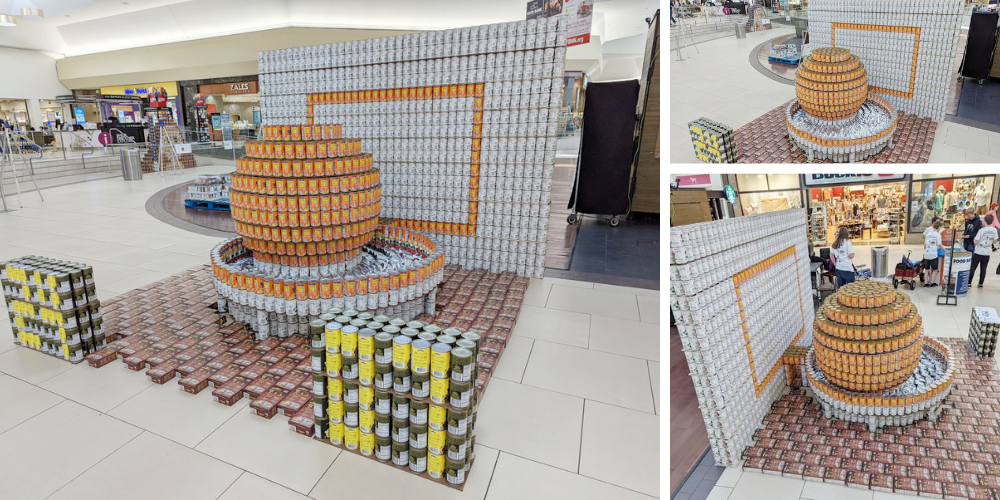 Team 10: Food Bank of Northern NEvada Board of Directors| Setting the Table
The overarching mission of the Food Bank of Northern Nevada is to feed the hungry today and solve hunger for tomorrow.  Working together, we CAN ensure our community has access to healthy and nutritious food for every person, every day! More than ever, our neighbors juggle increased housing, medical, and transportation expenses AND struggle to put food on the table.  BUT…you CAN help us set the table and provide nutritious meals!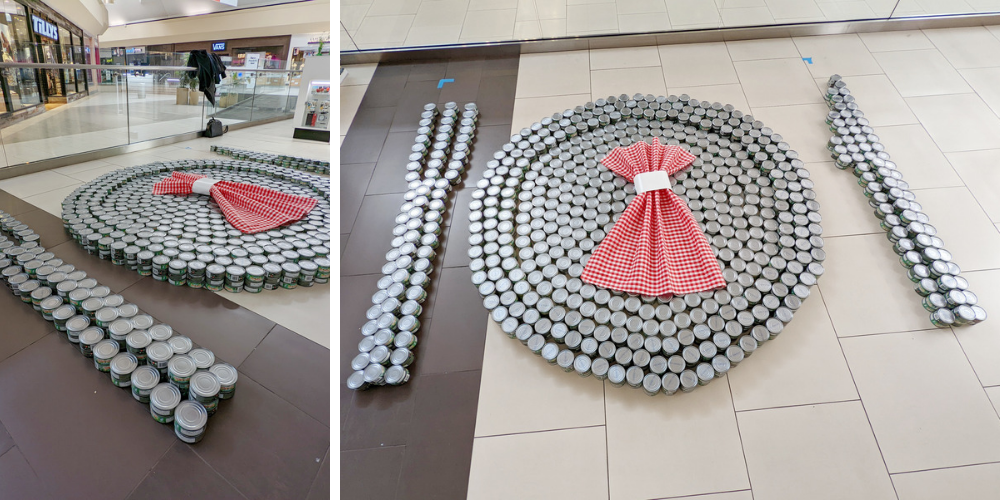 Team 11: Swope Middle School & TSK Architects | Break Through Hunger, Oh Yeah!
Swope Middle School's Construction Education class of 2021-2022 and TSK Architects wants to raise awareness for the people that suffer from food shortages. Our design includes Kool Aid Man breaking through a wall that represents a world obstacle, hunger. We chose Kool Aid Man because of his attitude of always wanting to share his Kool Aid with others like we want to share food with the people that suffer from food shortages. Swope Middle School and TSK Architects are breaking through hunger! Oh yeah!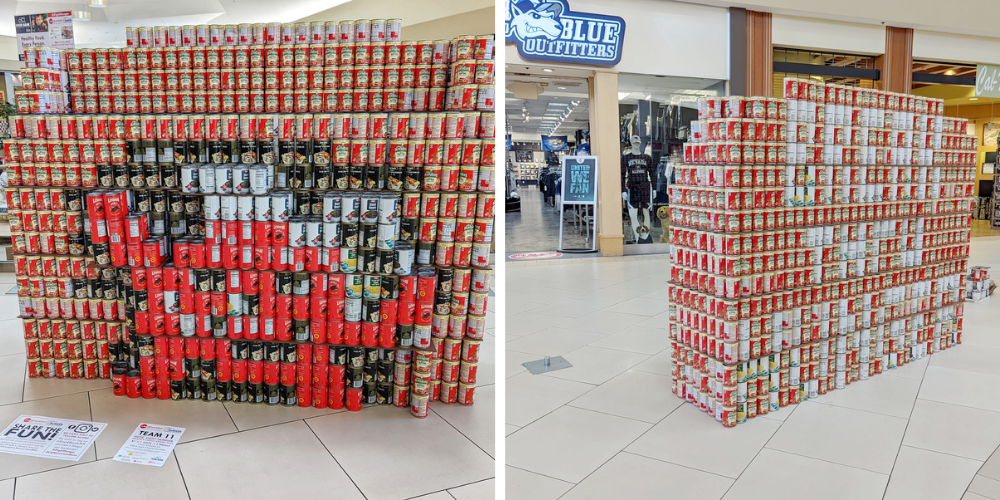 Team 12: Reed High School NJROTC and Universal Engineering Sciences | Ameri-Cans
Ameri-Cans is a mural made for the people in need and those who have lost their lives fighting for this country's freedom. The boats represent all Navy sailors who have gone on duty to represent the country we love and hold dear to our hearts. The boats are made of tuna caught in the same oceans our Navy sailors are protecting, even as you read this passage. The flag is our banner declaring that we will hold strong no matter if we have different cultures, ethnicities, or even soup. Together we all come to form one country because we are Ameri-cans.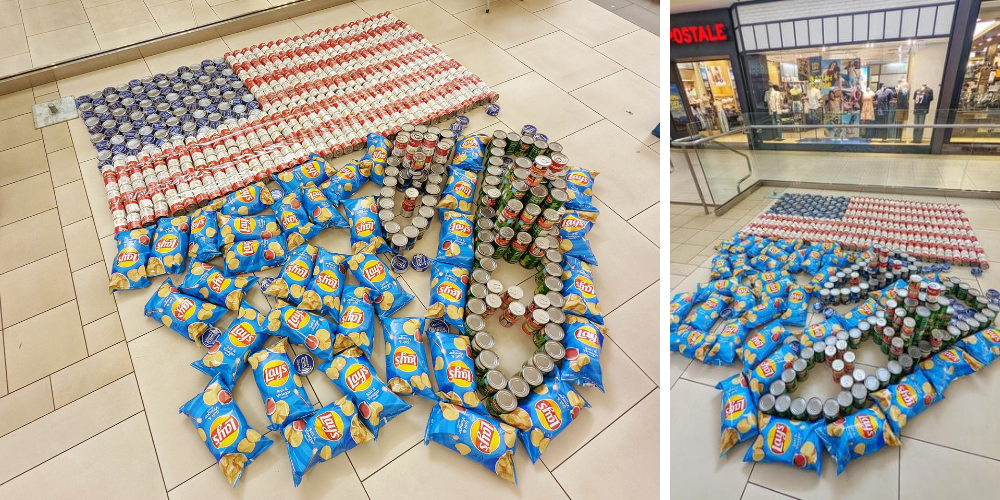 ---
CANstruction is organized by American Institute of Architects of Northern Nevada and made possible by Presenting Sponsor Growing Smiles Pediatric Dentistry, CANstruction Awards Presenter John Anderson Construction, Clark/Sullivan Construction, Hawkins & Associates, Inc, Fred & Janice Graham, and Yesco.  CANstruction is also supported by Meadowood Mall, WinCo Foods, Freeman, Cooks Photography, and Nevada Blue.