Throughout the year, the Food Bank hosts and participates in a variety of events. Whether they are food and fund drives, our Summer Concert, CANstruction or more, there are exciting ways to get the word out about those who are struggling in our area and how we can all make a difference!
24th Annual KTVN Share Your Christmas Drive-By Food Drive

Friday, December 9 | 6am-6pm
Reno: Grand Sierra Resort Casino | 2500 E 2nd Street
Carson City: Governor's Mansion | 606 Mountain Street
Minden: Carson Valley Inn | 1627 U.S. Hwy 395 N
Donating to this food drive is so simple – you don't even have to get out of your car!  Just pull up to one of the three donation locations and volunteers will happily unload your donation items for you.
Reno Wind Symphony Holiday Celebration
Sponsored by MacLean Financial Group & Heritage Bank of Nevada
Saturday, December 10 | 7:30pm
Sunday, December 11 | 3pm
Nightingale Concert Hall at University of Nevada Reno
Join us for a magical evening at the Nightingale Concert Hall on December 10th or December 11th to hear classic holiday songs. For the past several years Ross Mitchell from KOH Radio has narrated the evening. His recitation of the mid-nineteenth century poem, 'Twas the Night Before Christmas has become an annual tradition. It's an evening of fun for everyone, young and old, and warm of heart.
Tickets are FREE with either food or monetary donation to the Food Bank of Northern Nevada.  Tickets can be picked up at the following locations with donation:
MacLean Financial Group
1325 Airmotive Way, Ste 390 | Reno
(775) 329-3041
Heritage Bank of Nevada
2330 South Virginia Street | Reno
(775) 348-1000
Free parking is available in the Brian J. Whalen parking structure north of the fine arts building. Nightingale Concert Hall located in the Church Fine Arts building on the campus of the University of Nevada. Limit 4 per person with suggested donation.
Behind-the-Scenes with FBNN Open House & Tour

Thursday, December 15 | 3-5pm
Food Bank of Northern Nevada
Donald W Reynolds Distribution Center
550 Italy Drive | McCarran, NV
Join us for an insider's look at how your community food bankworks to serve more than 95,000 neighbors in need every month.  RSVP to be entered into a drawing for a limited-edition "Together" bowl by local potter Joe Winter (Valued at $100)
AIANN 14th Annual CANstruction Design/Build Competition

Build Day: March 1
Judging & Awards: March 2
OPen to the PUblic for Viewing and People's Choice Voting: March 1-5
Meadowood Mall
5000 Meadowood Mall Circle | Reno, NV
CANstruction!  Quite possibly the coolest community event ever created.  CustomInk has participated in CANstruction for the past several years.  The challenge of creating a meaningful design, working with our architects to make sure it's perfect and then actually building a structure using canned food is both hilarious and genius!  This event is a favorite of our Three Hearts Volunteer Team!  Through participation, we've been honored to connect with so many amazing local businesses, schools and organizations.  We're such fans that our holiday gift trees are also made of cans and donated to the FBNN every year!
~Lori Mayfield, CustomInk Charity and Community Outreach Lead
The American Institute of Architects, Northern Nevada chapter and the Food Bank of Northern Nevada are gearing up for the 14th annual CANstruction event in Reno.  CANstruction is a visually stimulating and educational food drive that combines architecture, design, learning and planning.  It brings professionals in the architecture, design and construction fields together with students, or any organization for a great experience that feeds people at the same time.
TEAMS ARE BEING RECRUITED NOW!
This year's "play with your food" building competition will take place March 1-5.  This is a fun, creative way to get involved with the fight against hunger, and we'd love to have you be part of the fun!  The event involves student and corporate teams making large sculptures out of non-perishable foods that are judged, enjoyed and then donated to the Food Bank of Northern Nevada.  The event is organized by the American Institute of Architects of Northern Nevada (AIANN).   SIGN UP to compete in this year's CANstruction event.  The deadline to enter is January 13, 2017.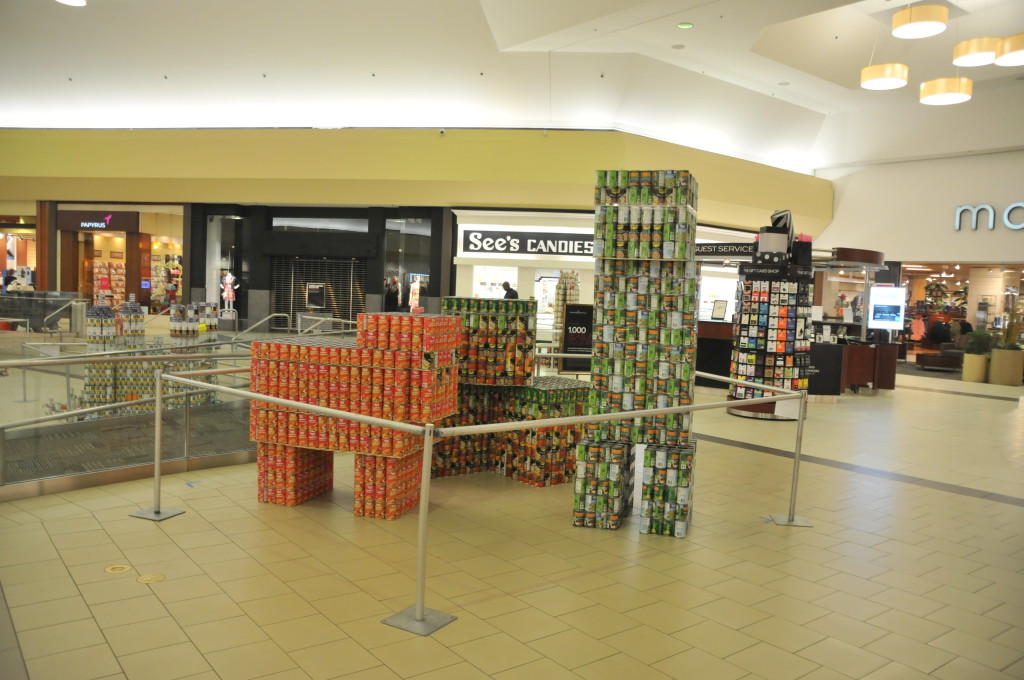 ON THE BLOG:
Ready why the dedicated team of CANstructors from GuiDenby sign up to participate year after year.
If you have questions regarding participating in CANstruction, please contact Fred Graham at (775) 846-6088 or Max Hershenow at (775) 332-6642.  For information on sponsorship opportunities, please contact Joan Griswold, Corporate Development Officer at the Food Bank of Northern Nevada.
---
If you're interested in inviting the Food Bank to be part of your event, please email our Events & Food Drives Coordinator, Lauren Greeney or call (775) 331-3663 ext 156.