Throughout the year, the Food Bank hosts and participates in a variety of events. Whether they are food and fund drives, our Summer Concert, CANstruction or more, there are exciting ways to get the word out about those who are struggling in our area and how we can all make a difference!
THIRD ANNUAL MLK DAY NATIONAL DAY OF SERVICE
ALL-AGES VOLUNTEER EVENT
Monday, January 16 | 2-4PM
FOOD BANK OF NORTHERN NEVADA
DONALD W REYNOLDS DISTRIBUTION CENTER
550 ITALY DRIVE | MCCARRAN, NV
Celebrate the Martin Luther King Jr. National Day of Service by attending the Food Bank's third annual all ages volunteer event!  Grab the kids and join the Food Bank of Northern Nevada for an afternoon of service and fun with this special, all ages volunteer session.  The volunteer session will entail bagging produce for distribution to clients of the Food Bank of Northern Nevada.  Giving back is FUN!
Registration is limited to 250 people, so sign up soon before the event is full.  This event is free of charge and open to all ages. Food donations (non-perishable, non-expired) are appreciated.
Please note:
Children must be accompanied by adults.
Closed-toe shoes are required at all times.
AIANN 14th Annual CANstruction Design/Build Competition

Build Day: March 1
Judging & Awards: March 2
OPen to the PUblic for Viewing and People's Choice Voting: March 1-5
Meadowood Mall
5000 Meadowood Mall Circle | Reno, NV
CANstruction!  Quite possibly the coolest community event ever created.  CustomInk has participated in CANstruction for the past several years.  The challenge of creating a meaningful design, working with our architects to make sure it's perfect and then actually building a structure using canned food is both hilarious and genius!  This event is a favorite of our Three Hearts Volunteer Team!  Through participation, we've been honored to connect with so many amazing local businesses, schools and organizations.  We're such fans that our holiday gift trees are also made of cans and donated to the FBNN every year!
~Lori Mayfield, CustomInk Charity and Community Outreach Lead
The American Institute of Architects, Northern Nevada chapter and the Food Bank of Northern Nevada are gearing up for the 14th annual CANstruction event in Reno.  CANstruction is a visually stimulating and educational food drive that combines architecture, design, learning and planning.  It brings professionals in the architecture, design and construction fields together with students, or any organization for a great experience that feeds people at the same time.
TEAMS ARE BEING RECRUITED NOW!
This year's "play with your food" building competition will take place March 1-5.  This is a fun, creative way to get involved with the fight against hunger, and we'd love to have you be part of the fun!  The event involves student and corporate teams making large sculptures out of non-perishable foods that are judged, enjoyed and then donated to the Food Bank of Northern Nevada.  The event is organized by the American Institute of Architects of Northern Nevada (AIANN).   SIGN UP to compete in this year's CANstruction event.  The deadline to enter is January 13, 2017.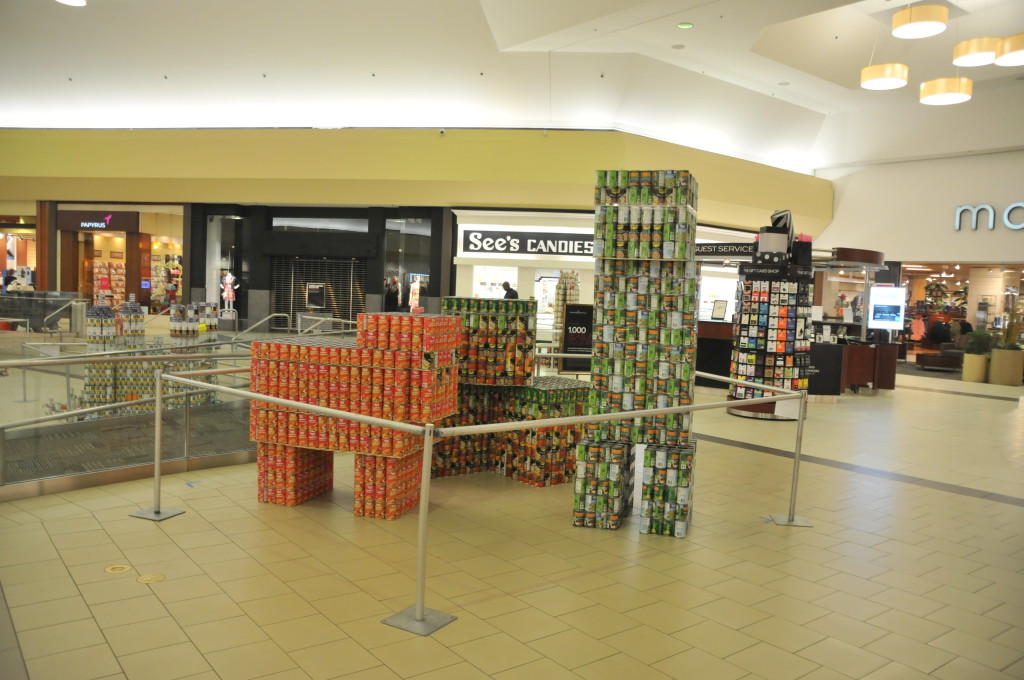 ON THE BLOG:
Ready why the dedicated team of CANstructors from GuiDenby sign up to participate year after year.
If you have questions regarding participating in CANstruction, please contact Fred Graham at (775) 846-6088 or Max Hershenow at (775) 332-6642.  For information on sponsorship opportunities, please contact Joan Griswold, Corporate Development Officer at the Food Bank of Northern Nevada.
---
If you're interested in inviting the Food Bank to be part of your event, please email our Events & Food Drives Coordinator, Lauren Greeney or call (775) 331-3663 ext 156.