Throughout the year, the Food Bank hosts and participates in a variety of events. Whether they are food and fund drives, All Ages Volunteer Events, CANstruction or more, there are exciting ways to get the word out about those who are struggling in our area and how we can all make a difference!
25th annual KTVN Share Your Christmas Drive-by Food Drive
December 8 | 6am-6pm
Reno: Grand Sierra Resort
Carson City: Governor's Mansion
Minden: Carson Valley Inn
It's almost time for one of our favorite days of the year!  Making your donation during the KTVN Share Your Christmas Drive-By Food Drive is easy.  Just pull on through the car lane, and we'll be ready to get to work.  Your food donations will be collected without ever having to get out of your vehicle.  If you prefer, you can even skip the shopping all together and swing on through to make a monetary donation instead.
FBNN Behind-the-Scenes Tour
December 13 | 3pm
Food Bank of Northern Nevada
Donald W Reynolds Food Distribution Center
550 Italy Drive | McCarran, NV
Thanks to the incredible support of food and fund donors, our warehouse is filling up for the holiday season.  We'd love to give you a sneak peak at what happens next!  Join us for our quarterly tour event for an insider's look at how the Food Bank of Northern Nevada works to serve more than 95,000 people every month.  RSVP today.
15th annual canstruction – call for entries open
March 7 – 11, 2018
Meadowood Mall
5000 Meadowood Mall Circle, Reno nv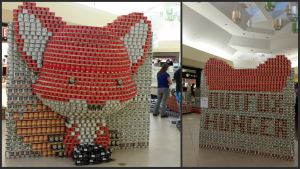 We are thrilled to announce that we are accepting teams right now for next year's event.  CANstruction is a visually stimulating and educational food drive that combines architecture, design, learning and planning.  It brings professionals in the architecture, design and construction fields together with students, or any organization for a great experience that feeds people at the same time.  If you'd like to know what is involved to have a team in CANstruction, click here for a guide for team leaders.  
Find out more by clicking here to download the official Call for Entries form or call Fred Graham at 846-6088.
---
If you're interested in inviting the Food Bank to be part of your event, please email our Events & Food Drives Coordinator, Lauren Greeney or call (775) 331-3663 ext 156.