Join Us for the Summer of Service!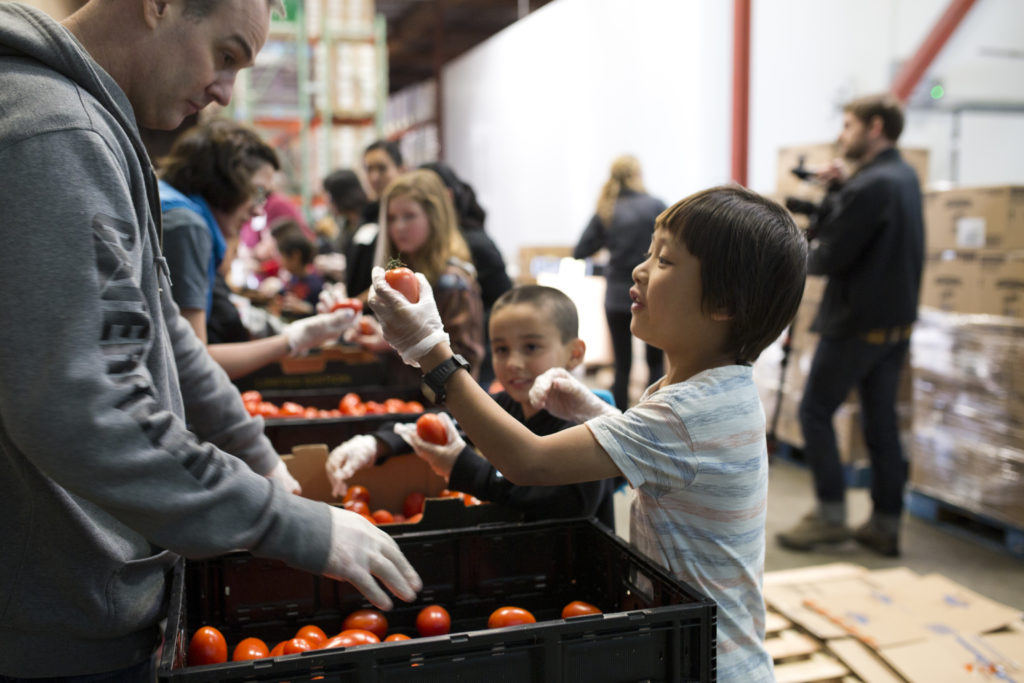 We need YOU! Summer is a tough time for families who are struggling with hunger, and the Food Bank of Northern Nevada needs your help to sort and pack food so that we can distribute it to families right away. Join us for the Summer of Service and make a difference with just a couple of hours of your time.
This is the most difficult time of year for us to recruit volunteers and we really need you.  Families are welcome with children at least ten years of age.  Sessions are Monday through Saturday with daytime and evening sessions available.  With just one volunteer shift, you'll make it possible for thousands of meals to be delivered to families in our community right away.  Together we can solve hunger!  Register today.
Volunteers joining us throughout the summer months will be entered into our Summer of Service drawings for fun prizes all summer long, including monthly drawings for a Family Fun Day 5-pack from Wild Island with water park and attraction tickets (valued at more than $200).  The more you volunteer, the more chances you'll have to WIN!
Summer Nights Themed Volunteer Sessions
SUMMER BBQ: JUNE 26 | 5-8PM – Does anything say summer more than grilling up some tasty eats?  Join us before our evening volunteer session begins for a BBQ in the parking lot and some summer fun throughout the evening.
CHRISTMAS IN JULY: JULY 25 | 5:30-8PM – Join us for an evening of merriment and feeding families.  Santa hats optional, but you'll definitely want to take part in our Ugly Tank Top contest.
REGISTER FOR THESE SPECIAL THEMED VOLUNTEER SESSIONS ON THE VOLUNTEER SCHEDULING PAGE
Scheels Summer of Service All-Ages Volunteer Event
Grab the kiddos and join us for an afternoon of family fun and giving back at one of our favorite events.  This special event opens our warehouse to children of all ages and is an amazing way for families to get involved together. Space is limited, and these sessions tend to be quite popular, so RSVP today!
VISIT THE EVENTS PAGE TO RSVP FOR THIS SPECIAL VOLUNTEER SESSION
---
If you are interested in joining us in the fight against hunger, we could use you. Volunteering is a truly rewarding experience, and we look forward to showing you just how much fun it can be, too. Together, we can solve hunger!
Whether you are a self-motivated individual volunteer, represent a community or employee group, or are looking for school or work-related, or court-ordered community service opportunities, there's something for you to do to help at the Food Bank of Northern Nevada.
Distribution Center
It all starts here. Keeping the shelves of our warehouse stocked with food ready to be distributed to neighbors in need is a vital part of the work that we rely on our volunteers to help us with. Volunteers working at the Food Bank's distribution center take on the task of sorting and packing non-perishable food items generously donated by the community. Our warehouse volunteers also help with packing boxes distributed to seniors through the Commodity and Supplemental Food Program (CSFP) and sorting and packing bulk produce for distribution through our Mobile Harvest program and Partner Agencies. The Food Bank happily welcomes individuals and groups of all sizes to our warehouse.
Regular Volunteer Hours for Warehouse Shifts:
Tuesday – Thursday: 9:00 a.m. – 11:00 a.m. | 1:00 p.m. – 3:30 p.m. | 5:30 p.m. – 8:00 p.m.
Monday:   9:00 a.m. – 11:00 a.m. | 1:00 p.m. – 3:30 p.m.
Friday: 1:00 p.m. – 3:30 p.m.
Saturday: 8:00 a.m. – 10:00 a.m. | 11:00 a.m. – 1:00 p.m. | 2:00 p.m. – 4:00 p.m.
Sunday: Closed for volunteers
Please note: for the safety of our volunteers, Closed-toe shoes are mandatory when volunteering in the warehouse.
Distribute Food in the Community
Want to see the impact you're having first-hand? Consider volunteering at any of our client distribution programs. We recruit volunteers for Mobile Harvest and Senior CSFP box distribution throughout our service area. During the summer, we also need volunteers at some of our larger Kids Cafe Summer Meals sites.
Special Events
Throughout the year, the Food Bank hosts and participates in several community events. Periodically, these events need volunteers to help facilitate and run them. We'd love to have you join us!
Administrative Support
From time to time, the Food Bank needs help with mailings, database management, courtesy calls and other clerical duties in our offices. Administrative volunteers are recruited on an as-needed basis. Please let us know if you'd like to be added to our list of administrative volunteers.
Ready to get started?
Great! Please create your volunteer account by submitting the New Volunteer Application.  You'll then be able to view all of our current volunteer opportunities and schedule yourself for sessions.  To get started as a new volunteer group, you should also complete the Volunteer Group Request Form. To inquire about current special event or administrative support opportunities, contact our Volunteer Coordinator, Amanda Sharkey.
PLEASE NOTE:
Prior to volunteering, all individuals and groups must make a reservation so we can plan an appropriate task for the number of volunteers.
Have an even Greater Impact
Did you know many employers will make a monetary donation on behalf of an employee as a match for their volunteer hours?  Check to see if your company provides a volunteer match to double the impact your time spent volunteering with the Food Bank will have on our neighbors in need.
Matching Gift
and
Volunteer Grant
information provided by

Youth Policy
Children over the age of 10 are welcome to volunteer with an adult. Must be 16 and over to participate without an adult.
Court-Mandated Community Service Policy
Charges related to an act of violence of any kind are prohibited.
Every shift must be scheduled in advance.
We require a minimum of 48 hours' notice. – No walk-ins.
Must provide additional documentation, including specific offense and case number.
Upon completion of hours, we require 72 hours' notice to prepare verification or completion letter.
Need more information?
Please email our Volunteer Coordinator, Amanda Sharkey, or call (775) 785-1431.