Volunteers aged 10+ only
Updated Face Masks/Coverings Policy (As of Friday, July 30, 2021).  Per the State's directive, masks/face coverings are required indoors for all volunteers who are volunteering in the warehouse, whether vaccinated or not.Masks/face coverings  are not required for fully vaccinated volunteers who are volunteering outside.Any UNVACCINATED individual including anyone under 12 is required to wear a mask at all times.We fully support those VACCINATED individuals who personally choose to continue wearing masks for their own safety. We ask that respect and kindness be granted to those who choose to wear a mask and those who may not be vaccinated.
Volunteers will be working in small groups of 10-12 people with tasks set up to allow for social distancing.

Please help us in observing social distancing by keeping 6+ft distance from others while working.

Because it is so important to maintain our small group count, please only attend volunteer sessions that you have a confirmed registration for.
Wash your hands frequently, including before beginning tasks and at the end of your volunteer session.
Volunteers are required to wear gloves during all tasks.
If you are not feeling well, we kindly ask that you not attend volunteer activities.
Ready to get started?
Great! Please create your volunteer account by submitting the New Volunteer Application.  You'll then be able to view all of our current volunteer opportunities and schedule yourself for sessions.  To get started as a new volunteer group, you should also complete the Volunteer Group Request Form. To inquire about current special event or administrative support opportunities, contact our Volunteer Coordinator, Vickie Fisher.
PLEASE NOTE:
Prior to volunteering, all individuals and groups must make a reservation so we can plan an appropriate task for the number of volunteers.
Have an even Greater Impact
Did you know many employers will make a monetary donation on behalf of an employee as a match for their volunteer hours?  Check to see if your company provides a volunteer match to double the impact your time spent volunteering with the Food Bank will have on our neighbors in need.
Youth Policy
Children over the age of 10 are welcome to volunteer with an adult. Must be 16 and over to participate without an adult.
---
Call your representatives, (local, state and federal) and let them know that you care about hunger in your community and that you support the federal nutrition programs that are so important to families in need.
Write a letter to the editor about hunger in your community and why you care.
Tell your friends, family and co-workers why you are involved in this fight.
To learn more about the Food Bank of Northern Nevada's involvement in state and federal policy, contact our Public Policy Advocate, Shane Piccinini, or call (775) 785-1418.
Political Endorsement Disclaimer:
While the Food Bank of Northern Nevada may issue position papers on information related to political and policy issues, the Food Bank of Northern Nevada does not endorse any political parties or candidates for public office.  Any political statements or endorsements made by individuals or organizations adding the Food Bank of Northern Nevada's information to their website does not represent a political endorsement, the position, or policy of the Food Bank of Northern Nevada. Any candidate for public office claiming an endorsement from the Food Bank of Northern Nevada, its departments or offices is doing so without permission.
Invite Us to Present
We would love to come and present to your club, group or class about hunger in our area. We can gear our presentation to what you would like to know about the subject and what you can do to help. We also love it when we get company at the Food Bank so we can give tours. We are proud of our work and like to give our supporters the behind the scenes tour. Please contact Jocelyn Lantrip, Director of Marketing & Communications, to find out more.
[callToActionCopy] => Read More [callToActionUrl] => https://fbnn.org/get-involved/raise-awareness/ [callToActionTarget] => [hideInlineSizes] => [tag] => [showFunction] => )
That one in five of Nevada's children don't know where their next meal is coming from.
The Food Bank helps an average of 106,000 people each month.
More than 30% of the food we distribute is actually fresh produce.
About 12,000 people are helped every month through our Mobile Harvest program.
Read more from our 2014 Hunger in America Study findings.
For more information, read the Nevada Poverty Report 2015.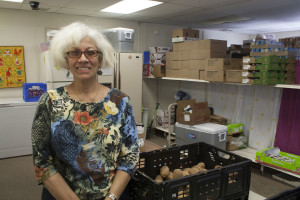 Your support helps people like Mervat. Mervat is a senior and with her husband, they survive on an income of $15,000 per year. With their monthly expenses, it just isn't enough to make ends meet. Her husband was an engineer and his company closed down. After they moved here to start over, he was diagnosed with Parkinson's disease and is now not able to work. Mervat is so very thankful for the food that she receives at the pantry.
[callToActionCopy] => Read More [callToActionUrl] => https://fbnn.org/get-involved/learn-about-hunger/ [callToActionTarget] => [hideInlineSizes] => [tag] => [showFunction] => )
Be recognized by the Internal Revenue Service as a 501(c)(3) not-for-profit, charitable organization, or be affiliated with a 501(c)(3) umbrella organization. Limited exceptions may be made if your church meets the spirit of the criteria used by the IRS to define a church
Offer services directly to the ill, needy, or children (under 18 years) free of charge and with no requirement to attend any kind of service
Provide an emergency food program, in the form of a food pantry, soup kitchen or shelter.
Have a facility able to safely handle and distribute food.
Have a record-keeping system that fulfills the Food Bank's reporting requirements
Obtain a food-handlers certification or license
We recommended that new agencies operate a food program for at least six months prior to applying
Running a food program is a big responsibility. It requires a major commitment of time, funds and energy.
Once you meet all of the above requirements, becoming a Partner Agency can be very easy. The Food Bank of Northern Nevada accepts applications at any time, however during October-January the application process can take longer than the average 4-6 week time frame.
To get started:
Email Jenny Yeager and include organization name, contact information, mailing and physical address, and hours of operation. (Your service area will be reviewed for unmet needs. If area is underserved, an application packet will be mailed.)
Mail completed request for partnership to:
Food Bank of Northern Nevada – Attn: Agency Relations (a completed packet must be approved prior to the first site visit)
First site visit will include onsite training
[callToActionCopy] => Read More [callToActionUrl] => https://fbnn.org/get-involved/become-a-partner/ [callToActionTarget] => [hideInlineSizes] => [tag] => [showFunction] => )