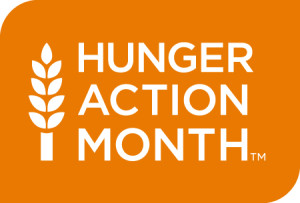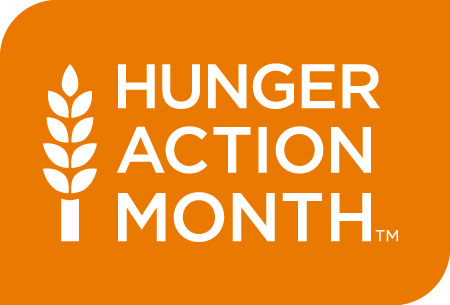 We Can End Hunger One Helping at a Time
September is Hunger Action Month! This is your opportunity to join a movement that has a real and lasting impact on the fight against hunger in our community and across the nation.  This September, the Feeding America network of Food Banks is coming together to seek 40,000 actions from the public – a donation, a volunteer shift, a social media post – actions that will help end hunger, one helping at a time.
Check out all the great ways you can get involved and share your passion for the fight against hunger with everyone around you.  We'd love to have you share your #HungerActionMonth fun with us.  Tag us on Facebook, Twitter, and Instagram so we can follow along with all the great stuff you're up to this month. Don't forget your hashtags!
go orange for hunger action day | 9/12/2019
Orange is the color of Hunger Action.  Help us spread awareness on Hunger Action Day by wearing orange and challenging your friends and family to do the same.  Snap a selfie and tag us on social media so we can be sure to compliment just how great orange looks on you!
Join or Follow Along with Others Participating in the SNAP Experience
The SNAP Experience is a 5 day event that runs from September 16-20. The SNAP Experience challenges participants to eat wholesome meals on the daily equivalent of the average SNAP benefit in Nevada.  Participants must spend no more than $4.17 per day on food.  The SNAP Experience is designed help participants gain some understanding of the struggles vulnerable families face each day. While it is impossible to fully comprehend the difficult decisions low-income families face, participating in the SNAP Experience this September will help raise awareness about the issue of hunger right here in Nevada. Click here for more guidelines on how to participate in the SNAP challenge.
This year, the SNAP Experience comes as proposed changes to the SNAP program threaten eligibility for many of our most vulnerable neighbors.  Should the proposed changes to revise categorical eligibility go into effect, more than 46,000 Nevadans will lose access to this critical food resource.  The Food Bank of Northern Nevada believes these changes will definitively harm many working families, children, and community members living with disabilities. Please join us in adding a public comment in opposition of this proposal before the deadline of September 23, 2019.

Volunteer
We love our volunteers, and we think you'll love being one, too!  If you've got a few hours to share, consider joining us for a session or two this month.  Why not challenge your friends and family to join you and make a group outing out of it?  We're pretty sure you'll have some fun along the way. Check out the Volunteer page here on our website to get started.
Donate: Food & Funds
9th Annual Run on Tuna
It's the 9th Annual Run On Tuna, organized by Tuna Queen De De Rosene and her appointed Tuna Princess, Michelle Sturge from Chase International.  The drive is September 1-30 and their goal this year is to raise and donate over 10,000 cans of tuna.  In its first eight years, the Run on Tuna Food Drive has raised more than 100,000 cans of tuna for our neighbors in need, and we can't wait to see how many they'll add to that total with this year's run.
How to Participate:  
Buy cans of tuna and either call/email De De to pick them up or bring them to 10526 French Meadows Way, Reno, NV 89521
Use Venmo to donate money and De De will go on a "tuna run" and purchase cans of tuna on your behalf.  Venmo: De De Rosene @ Diane-Rosene. All funds will be used to buy cans of tuna!
Send a check to De De Rosene at: 10526 French Meadows Way, Reno, NV 89521 and De De will purchase cans of tuna on your behalf
Have your own "Tuna Run" at your organization or business. Contact De De for a flyer and more information
Contact: De De Rosene: despacede@aol.com or (775) 225-0814
Note: All funds will be used to buy cans of tuna
Get a head start on the holiday food drive season by hosting a Food & Fund Drive. When you host a Virtual Food Drive for Food Bank of Northern Nevada, you are transforming $1 into 3 meals for hungry children, seniors, and families in our community. Better yet, your Virtual Drive will help put fresh foods including produce, dairy and meat, on the tables of those who need it most. The impact is incredible, and getting started is easy.  Simply register your drive by completing the Food Drive Form, and we'll be in touch to set up your dedicated link.
Advocate: Raise Your Voice on Social Media
Facebook, Instagram, and Twitter: FoodBankNN
Hashtags: #HungerActionMonth ~ #iFightHunger
Did you know? 1 in 5 kids in Nevada is food insecure.  Raise your voice on their behalf.  Share a photo or post on social media to highlight what YOU can do to help end hunger in our community, and challenge your followers to do the same.  Don't forget to use our hashtags and tag us so that we can follow along!
---
Tasty Ways to Give Back
Subway Feed the Need
When you dine at more than 40 local participating Subway restaurants during the month of September, they will donate a meal for every two meals purchased.  Their goal for this area is to donate 25,000 meals to the Food Bank of Northern Nevada!
sweet treats at the cheesecake factory
The Pineapple Upside-Down Cheesecake is The Cheesecake Factory's twist on a classic: creamy pineapple cheesecake with maraschino cherry swirl between two layers of moist buttery pineapple upside-down cake. For every slice of Pineapple Upside-Down Cheesecake sold, The Cheesecake Factory will donate 25 cents.
---
Whether you're interested in advocating and raising awareness, making a monetary donation, volunteering your time, or participating in events, everyone can find the way that's right for them to make a difference during Hunger Action Month.Let's make it a great month!