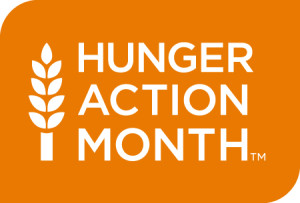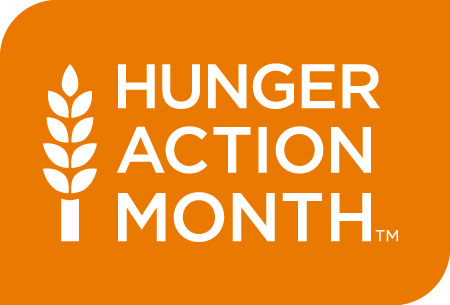 We Can End Hunger One Helping at a Time
September is Hunger Action Month! This September communities across America and the Food Banks that serve them are committing to fight hunger during Hunger Action Month. With every action, we get one step closer to making hunger a thing of the past.  If you'd like to get involved but aren't quite sure where to start, we've got you covered.  Check out all the great ways you can get involved and share your passion for the fight against hunger with everyone around you.
go orange for hunger action day | 9/10/2020
Orange is the color of Hunger Action.  Help us spread awareness on Hunger Action Day by wearing orange and challenging your friends and family to do the same.  Snap a selfie and tag us on social media so we can be sure to compliment just how great orange looks on you!
Hunger Action Month BINGO!
What's your favorite way to get a BINGO?  Are you all about the free space?  Love a good blackout game?  Whatever strategy you prefer, we've got a BINGO card full of ways that you can get involved this Hunger Action Month.
Everyone who participates and completes a BINGO will be entered into a drawing to win some GREAT prizes!
HELLO FRESH: Gift Certificate for One-Week Delivery of 4 Person Meal Plan (2 Recipes per Week)
FOOD & FUN AT HOME: $40 to Fat Cat Bar & Grill, $10 to Bibo Freddo Gelato, $10 for Game Rental at The Glass Die
DINNER & THE DRIVE-IN: $40 to Johnny's/LaCucina, $20 to El Rancho Drive-In Movie Theater
GRAB YOUR BINGO CARD & GET ALL THE DETAILS YOU'LL NEED
Volunteer
We love our volunteers, and we think you'll love being one, too!  If you've got a few hours to share, consider joining us for a session.  We've made some changes to our sessions for the safety of all of our volunteers, but we're pretty sure you'll still have some fun along the way. Check out the Volunteer page here on our website to find open volunteer opportunities.
Donate Food & Funds

$20.  2,020 Hunger Fighters.
Looking for the positive side of 2020?  We found it!  We're excited to be launching a fun, new campaign called Portraits for Produce.  The goal is for 2,020 hunger fighters to come together and each donate $20.  Those who join the campaign will receive a fun and special keepsake portrait created with love (and maybe a tiny bit of humor) by our Food Bank staff & volunteers.
DONATE TODAY: Together, we'll raise the funds for 340,000 pounds of fresh fruits and veggies for children, families, and seniors right here in our community.
---
10th Annual Run on Tuna
It's the 10th Annual Run On Tuna, organized by De De Rosene and  Michelle Sturge.  The drive is September 1-30, and their goal this year is to raise and donate over 10,000 cans of tuna.  In its first nine years, the Run on Tuna Food Drive has raised more than 120,000 cans of tuna for our neighbors in need, and we can't wait to see how many they'll add to that total with this year's run.
How to Participate:  
Venmo De De Rosene @Diane-Rosene
Venmo Michelle Sturge @Michelle-Sturge
Donate through Facebook Run on Tuna page Fundraiser
Buy cans of tuna and deliver them to Chase International at 985 Damonte Ranch Pkwy Unit 110 Reno, Nevada 89521 during business hours
Create your own Run on Tuna at your business or organization. Collect cans or money to donate.
Contact: De De Rosene: despacede@aol.com or (775) 225-0814
Note: All funds will be used to buy cans of tuna
---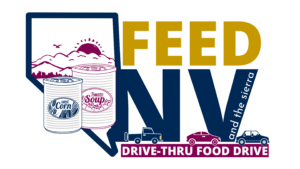 Donate to the Feed NV & the Sierra Food Drive
Here at the Food Bank of Northern Nevada, we're seeing significant increases in the need for food assistance across our region. That's why we're banning together with many of our partner agency food pantries to collect non-perishable food items to continue to support our neighbors facing food insecurity in the midst of the COVID-19 crisis
.
THURSDAY, September 24 | 9AM-12PM
NEVADA STATE BANK
500 e Prater Way | Sparks, NV
DRIVE-THROUGH DROP OFF DONATIONS
Donating couldn't be easier. Simply put your donations in a bag or box, drive up to the donation site, and let us unload them from your vehicle for you. Your food donation will be put to work right away, right in your community.  Visit the
Feed NV & the Sierra Food Drive
page for a list of other donation locations.
---
Advocate: Raise Your Voice fOR kIDS IN oUR cOMMUNITY
Need for emergency food services in our communities has risen drastically in the wake of the pandemic, and economic recovery for many is going to be long and difficult.  In the recent Feeding America study, The Impact of the Coronavirus on Local Food Insecurity, it's predicted that Nevada will be in the top 3 states for the highest rate of child food insecurity in the nation, at 32.9%.  The Food Bank and our network of 147 partner agencies is committed to continuing to serve all in need of food assistance.  But food banks simply can't meet the need alone.
Never has there been a time when it's been more vital for congress to come together in support of strong hunger relief programs.
Right now, we need our elected officials to come together to lift up struggling families in need of food assistance.  There are two solutions that Feeding America and other hunger relief advocates are asking Congress to consider.  Write or call your Member of Congress to show your support for these measures:
An increase to the maximum benefit for people enrolled in the Supplemental Nutrition Assistance Program (SNAP/formerly food stamps) by 15% for the duration of this economic crisis. SNAP is an important program for struggling families, seniors, and others.

Extend the Pandemic EBT Program (P-EBT) to ensure that kids who rely on free or reduced-price meals at school are able to get the nutrition they need even if schools aren't open.  The P-EBT program works to fill the gap left by missing school lunches in the event of full or partial school closures by providing families who depend on school meals with about $5 a day in additional funds for grocery spending.
---
Whether you're interested in advocating and raising awareness, making a monetary donation, volunteering your time, or participating in events, everyone can find the way that's right for them to make a difference during Hunger Action Month. We'd love to have you share your #HungerActionMonth fun with us.  Tag us on Facebook, Twitter, and Instagram so we can follow along with all the great stuff you're up to this month. Don't forget your hashtags! #HungerActionMonth #iFightHunger
Let's make it a great month!