We are here to help connect kids with free, nutritious meals that can help them thrive and help their family's budget as well. Our Kids Cafe programs are designed to help fill the meal gap while children are out of school, so that they can get back to just being a kid.
All Kids Cafe meals are available to all children between the ages of 1 and 18 and are always free. Children do not have to attend schools where the meals are hosted or be part of any programming offered at the site.
Kids Cafe Dinner Program operates throughout the school year, serving dinner at more than 30 schools and community centers in Reno and Sparks.
View the current 2018-2019 Kids Cafe Schedule or mealtimes at a site near you.
Kids Cafe Summer Meals Program is a mobile program which delivers a free lunch to children at more than 40 sites right in the neighborhoods where they live, often times at a park where the kids are encouraged to spend some time playing and being active while joining our staff for lunch. Some Summer Meals sites also offer a free breakfast in addition to lunch.
The Kids Cafe Summer Meals program will serve FREE lunches during the Washoe County School District's 2019 summer break beginning on June 10.  View the 2019 Summer Meals Schedule for all locations and times.
Reading Activities at Summer Meals
This year, the Food Bank is excited to be partnering with other local organizations to bring reading activities and FREE BOOKS to kids and teens at some of our Summer Meals sites.  Join us at these locations for story time during lunch.  Every child will also be able to choose a book to take home with them.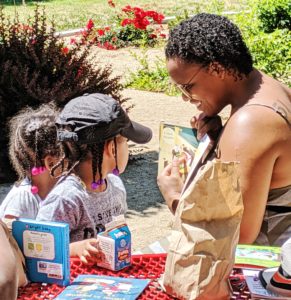 Spread the Word Nevada:
Every Monday at Pat Baker Park & Stead Manor
Every Tuesday at Liston Park & Burgess Park
United Way of Northern Nevada and the Sierra:
Every Tuesday at Community Gardens Apts
6/18, 6/25, 7/9, 7/16, and 7/30 at Yori Park
Northern Nevada Literacy Council:
6/11, 7/2, and 7/23 at Yori Park
6/18, 7/9, and 7/30 at Dorothy McAlinden Park
---
The Food Bank of Northern Nevada is an equal opportunity employer and provider.  Click here for additional information in English or Spanish.