OUR MISSION
Feeding the hungry today and solving hunger for tomorrow through community partnership.
OUR VISION FOR THE FUTURE
Healthy food. Every person. Every day.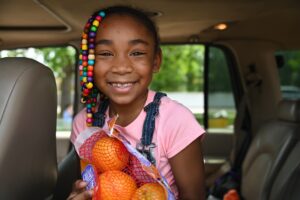 The Food Bank of Northern Nevada helps alleviate food insecurity and hunger by distributing food to families and individuals through a network of 150 partner agencies in a 90,000 square mile service area throughout northern Nevada and the eastern slope of the sierra in California. We currently serve 120,000 people on average each month, almost half of whom are children and seniors. Last fiscal year, we provided more than 17.1 million meals to neighbors who were hungry. The Food Bank also plays a leading role in collaborating with other committed northern Nevada community members and organizations to address the root causes of hunger.
The Food Bank is a 501(c)(3) nonprofit organization incorporated in 1983 in Nevada that has earned Charity Navigator's Four Star Charity rating and is an Accredited Charity with the Better Business Bureau.
We are a proud member of Feeding America, a network of more than 200 food banks. The Feeding America network is the nation's largest domestic hunger-relief organization and provides more than 4 billion meals to virtually every community in the United States. Membership means access to millions of pounds of surplus food and grocery donations.
Because of efficient operations, the Food Bank can turn $1 into 3 meals. Some giving level examples and the meals provided are:
$1,000 = 3,000 meals
$2,500 = 7,500 meals
$5,000 = 15,000 meals
$10,000 = 30,000 meals
Current Funding Priorities
Our focus is on ensuring we have adequate funding to fully operate our various programs including:
Core Food Distribution to our partner agencies
Mobile Harvest fresh produce distribution
School Food Pantries and Back-Pack Kids
Senior Food Boxes, Produce on Wheels and Golden Groceries pantries that serve older people
Prescription Pantry Program (food as medicine)
Tribal Outreach
SNAP Outreach
Nutrition Education for families and seniors
Contact Karen Senger, Director of Development, to discuss funding opportunities at 775-785-1402 or ksenger@fbnn.org.
To make a grant from your Community Foundation Donor Advised Fund, call a member of the Community Foundation's Philanthropic Advising Team at 775-333-5499.