Interested in getting involved with CANstruction?

Fill out this brief CANstruction Interest Form, and we'll be sure to keep you in the loop as we begin planning for CANstruction Reno 2024.
CANstruction Reno is BACK!
The design and build competition that challenges teams to create sculptural masterpieces out of canned food before donating it to the Food Bank returns on May 3 for it's 20th annual competition, and we can't wait for you to see it!
This year, as the Food Bank of Northern Nevada celebrates our 40th anniversary, we've invited our 15 teams to join us as we Imagine Ending Hunger, and they most certainly seem to be up to the challenge.  Our teams will use a total of nearly 30,000 cans to build their creations, which are certain to leave you wondering "HOW did they do that?!"  When the structures are taken down, all the food used to create them will be donated to the Food Bank, providing more than 20,000 meals for our neighbors in need.
Voting for the 2023 CANstruction Reno People's Choice Award has ended.  Congratulations to all of this year's winners.  We can't wait to see you all again in 2024 for the 21st Annual CANstruction Reno!
---
Check out each of the incredible structures below
Team 1: Sierra Nevada Job Corp | Donnashello
Please meet, Donnashello!! He is a desert tortoise (Gopherus agassizii) and is the largest reptile and the only wild land tortoise found in the state of Nevada! Due to the vast area and minimal food (especially pizza), in Nevada, Donashello appreciates snacks when he can get them! The Scarlet Hedgehog Cactus, flowering, also found in Nevada, is one of this shelled, gentleman's favorite foods!
Donashello is composed of the makings of a sweet chili! He has 4 different kinds of beans: black, sweet & sassy, and pinto, as well as a Manwich sauce. His belly is supported by brown rice and the cactus is made up of jalapeno beans and olives for the flowers!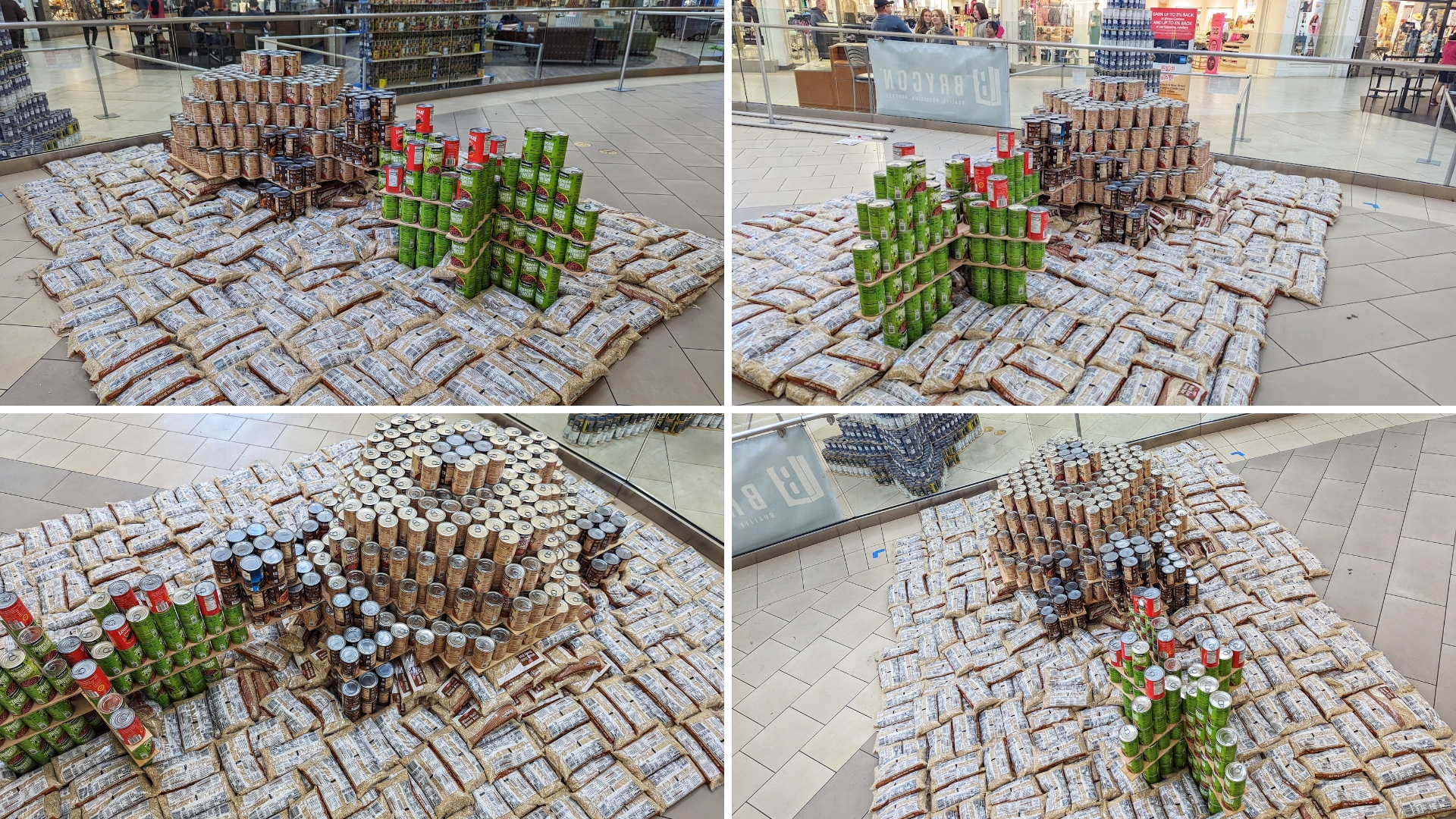 Team 2: Food Bank of NOrthern Nevada Staff | The Feeding Rainbow
Take a Look. It's in Our Truck! The Feeding Rainbow.  This year, the Food Bank of Northern Nevada celebrates our 40th anniversary, and it's made us a bit nostalgic. As we've looked back at our own history, we couldn't help but also notice some of the other now-classic things that first made their debut in 1983.
Mario Bros. Fraggle Rock. Return of the Jedi. And the Reading Rainbow!
Our Feeding Rainbow has a lot in common with the beloved PBS show that inspired the design. The Feeding Rainbow is ready to hit the streets this summer, making sure kids have access to the healthy, nutritious meals they need to return to school ready to learn and immerse themselves in the world of wonder waiting on the pages of their next favorite book.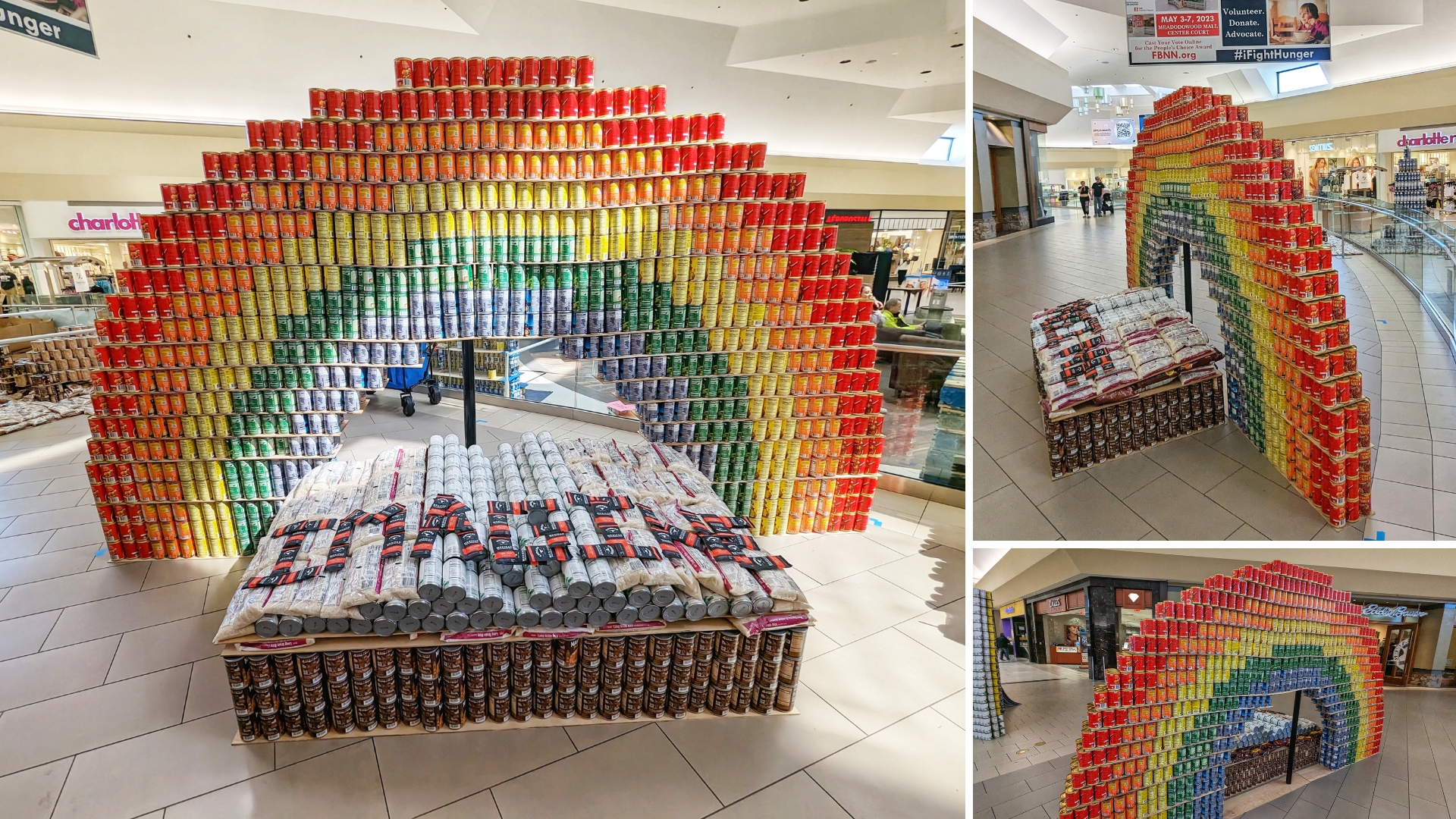 Team 3: AT&T Silver State Pioneers and VC Silver Circuits FTC Team #16158 | Tardis the superhero
WINNER: pEOPLE'S cHOICE & bEST uSE OF lABELS
Just as the TARDIS is symbolically bigger on the inside than the outside…there is also so much more than meets the eye when it comes to helping those in need! The AT&T Pioneers and VC Silver Circuits have designed and built this year's CANstruction project to help crush community hunger. Expanding our superpowers to raise awareness on our community's hunger needs, the silver cape is a visible symbol of the heroic role we play in supporting the Food Bank of Northern Nevada. The VC Silver Circuits do shine when wearing their silver capes during robot competitions. We are dedicated to fighting hunger and helping lives!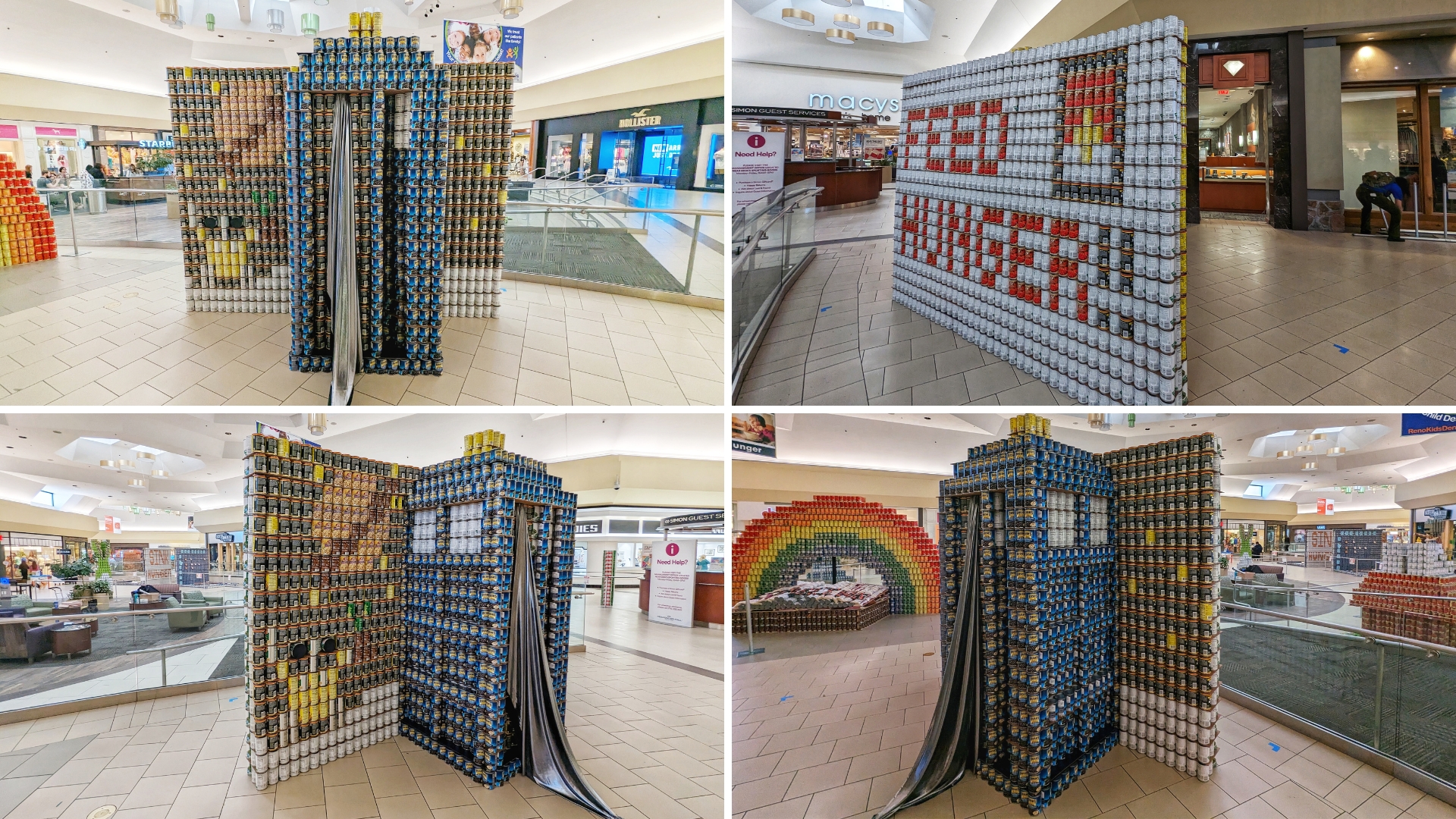 Team 4: Nevada Rural Housing | The Hunger Wall
This simple structure represents The Hunger wall (Czech: Hladová zeď), a medieval defensive wall of the lesser town of Prague, today's Czech Republic. It was built between 1360 and 1362 by order of Charles IV.
Charles IV ordered the building of a wall to serve Prague as fortification to parts of the city including Prague Castle.
The wall was originally called Zubatá (toothed) or Chlebová (Built of bread). The adjective Hladová (hunger) appeared after a 1361 famine, when the construction work on the wall provided livelihood for the city's poor. According to myth, the purpose of the wall was not strategic but to employ and thus feed the poor.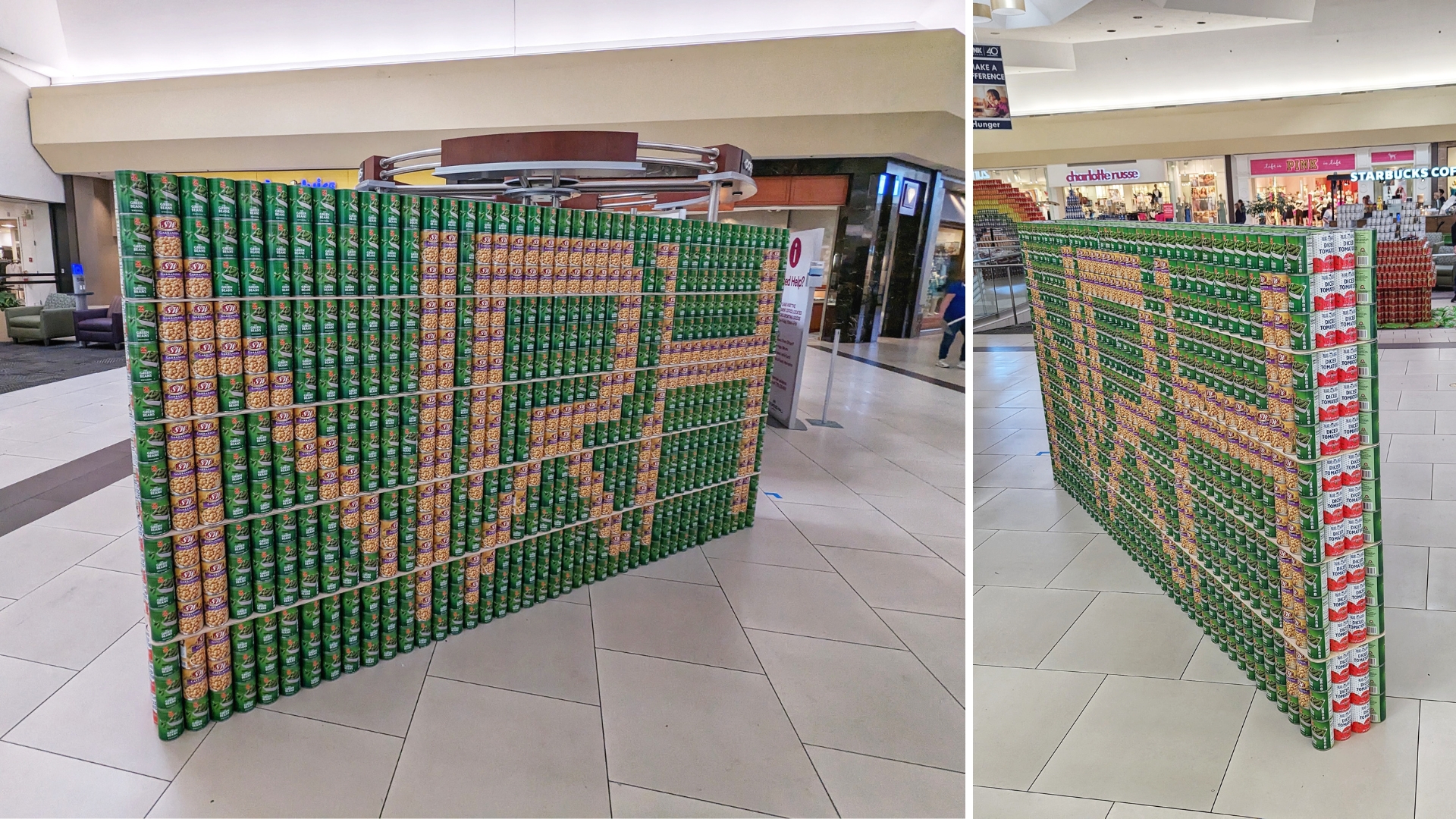 Team 5: Mountain View Montessori School | SNOOPY & WOODSTOCK
WINNER: mOST cANS
We recreated two of the world's most iconic cartoon characters; the unstoppable duo; Snoopy and Woodstock.
After a long adventurous day, settling down for a quiet nap on top of Snoopy's dog house sounds wonderful. "I had the weirdest dream," Snoopy says. "We were donating cans of food to the Food Bank of Northern Nevada. It felt pretty nice to be giving back to our community."
We have captured a moment in time demonstrating the unbreakable bond between these two friends. The Snoopy and Woodstock structure will feature a 3D recreation of Snoopy's bright red house, Snoopy sleeping, and Woodstock perched on Snoopy's stomach.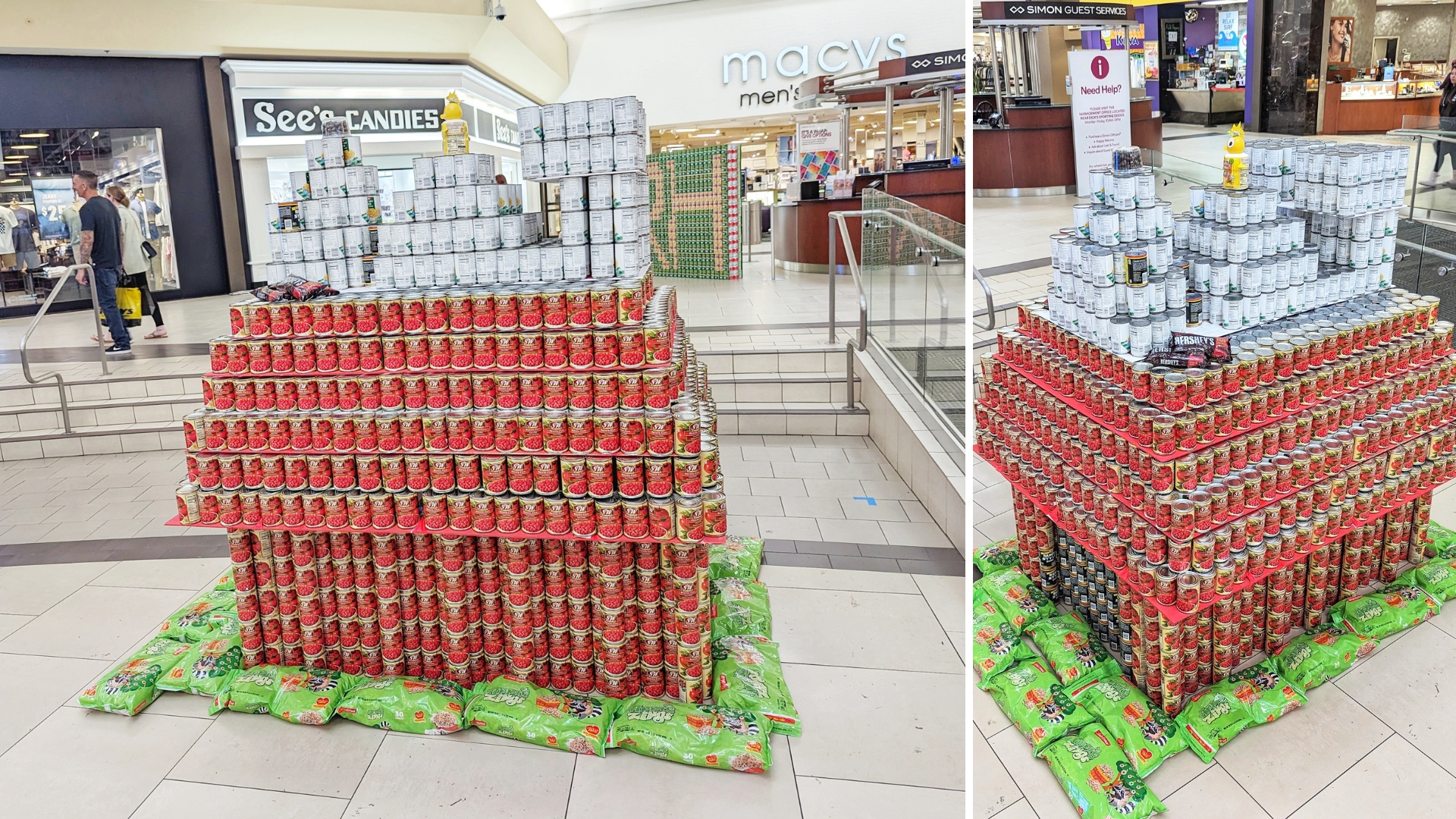 Team 6: Sage Ridge School | Hunger Over
With this canned food sculpture, Sage Ridge School pays homage to one of the most well-known classics in the arcade world. This Pac-Man console is packed with protein-rich beans of four varieties. On the black bean screen, our pinto version of Pac-Man has one mission: to "wokka wokka" his way through white garbanzo bean snack pellets and beat the game against hunger.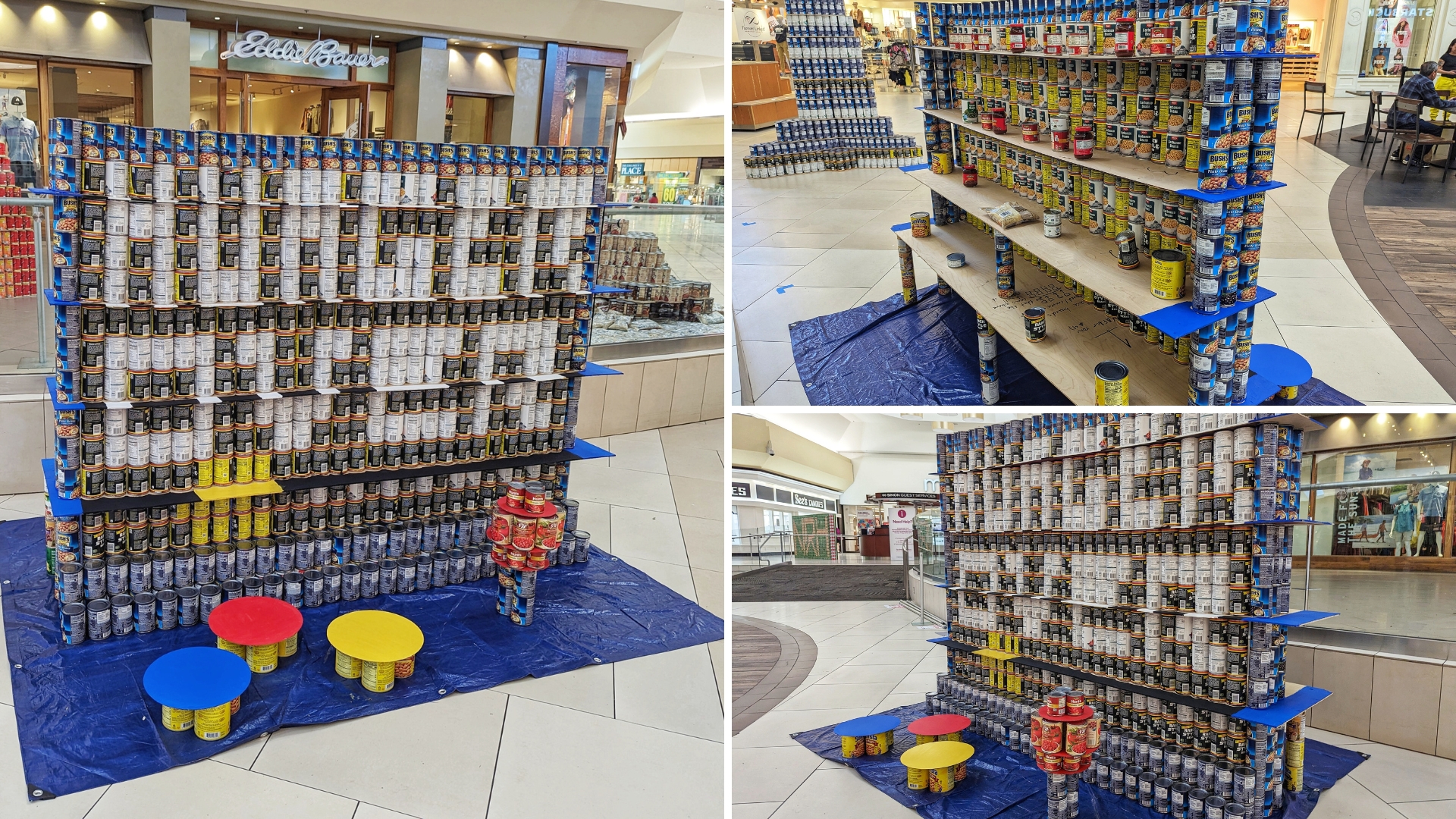 Team 7: WorthGroup Architects & Designers and Brycon Construction | Inspiring Ingenuity to Build Away Hunger
Our team is paying tribute to Burj Khalifa – which stands as the world's tallest building displaying the ingenuity and outside the box thinking needed to tackle large complex problems. The building has been constructed utilizing a variety of beans and a touch of green beans.
The striations of color on the building are achieved by utilizing black beans for the dark blue hues, pinto beans for the light blue hues, refried beans for black elements, and green beans for the white elements.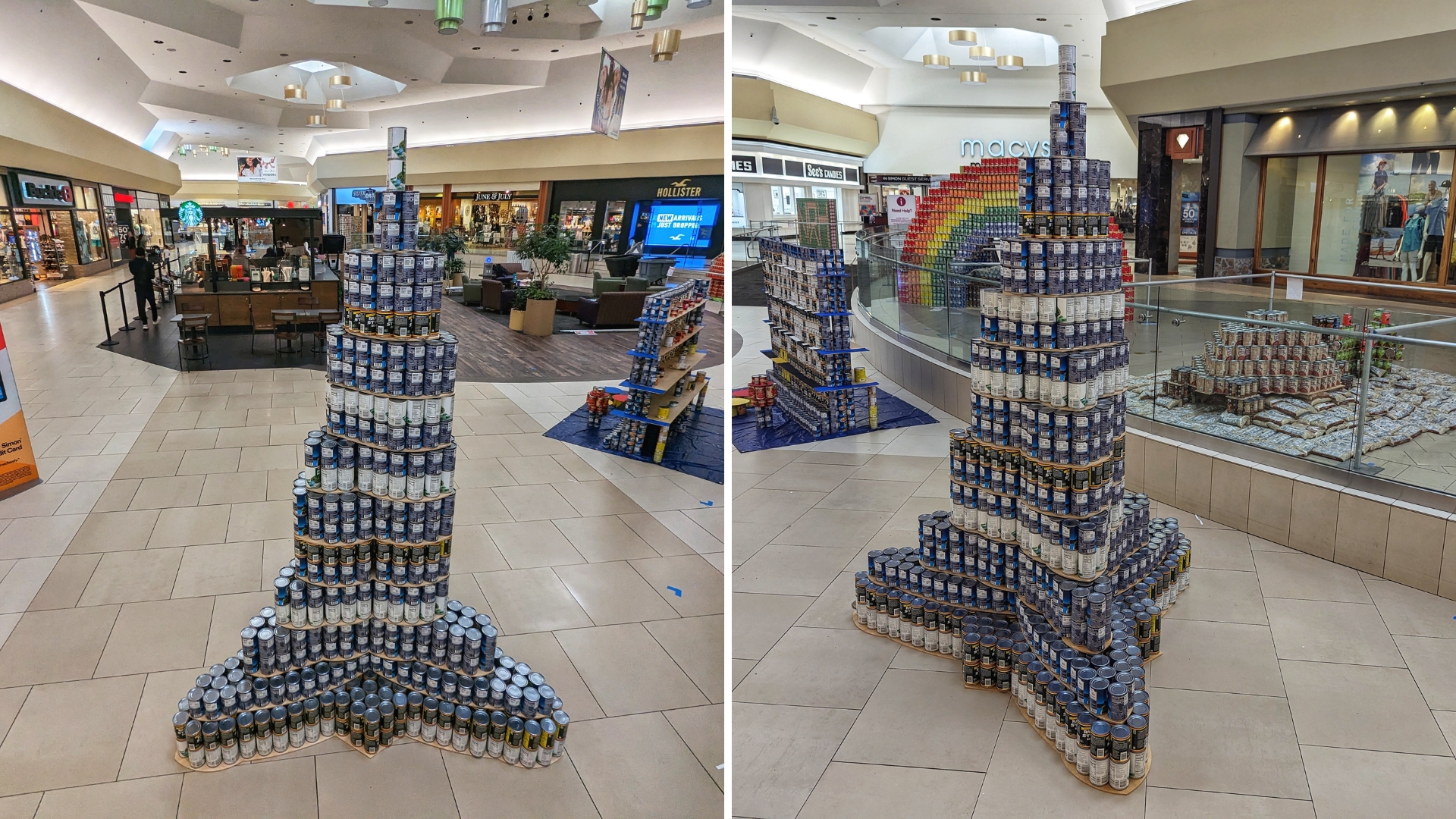 Team 8: Plenium Builders | I am CAN
This CANtastical creature is our rendition of one of the heroic Guardians of the Galaxy – GROOT! He is no normal tin monster; he is here to bring food to those in need. He has arrived on Earth bearing the finest canned tuna and beans in the universe. He strives to end hunger, saving the galaxies one can at a time, dancing along the way. Come hang out with our friend Groot! Beware of standing too close; with all those beans, he might let out a toot!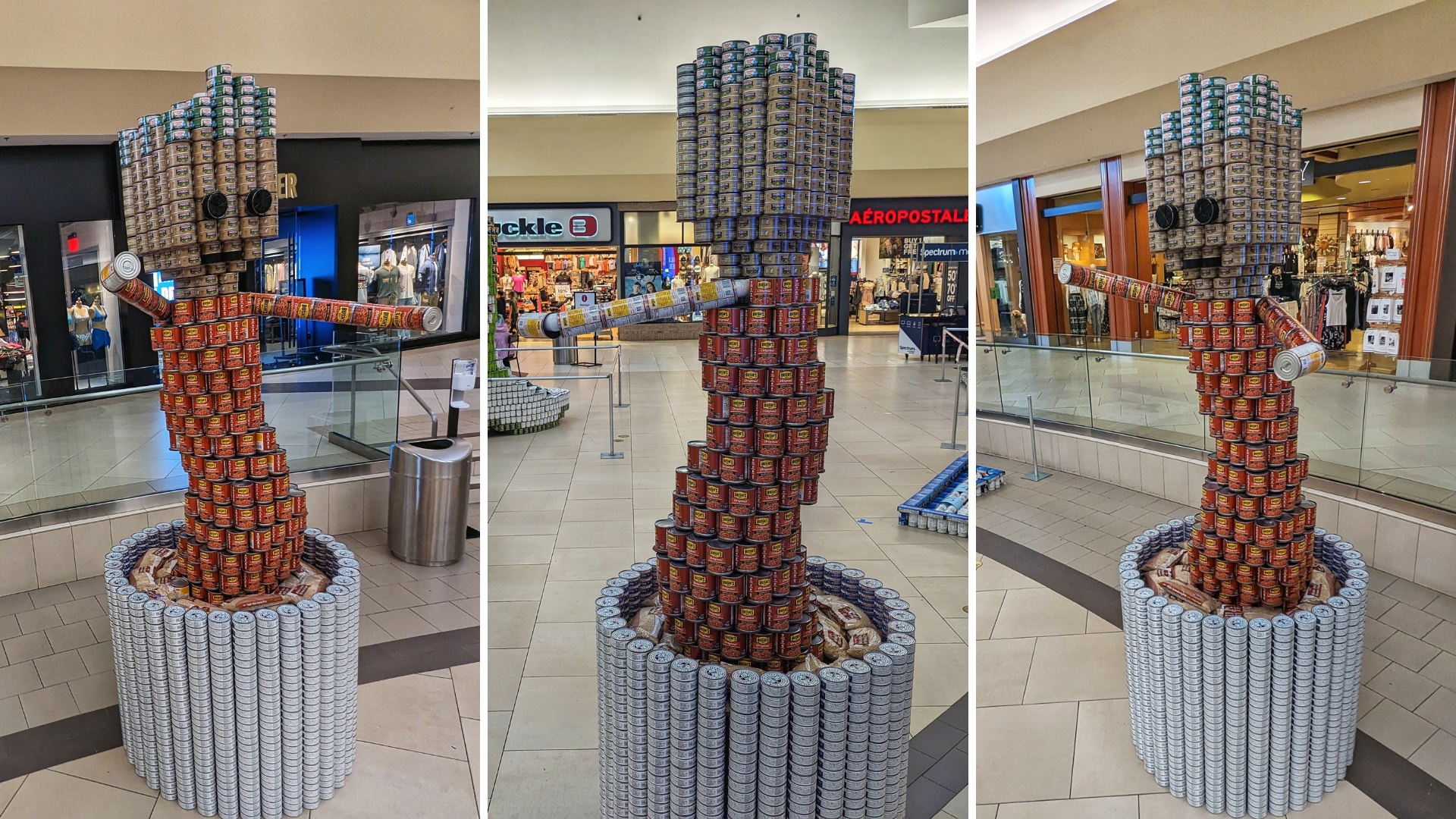 Team 9: Sky Ranch Middle School Blue Team | The War Against Hunger
& Team 10: Sky Ranch Middle School Orange Team | Help Us Sink Hunger
WINNER: mOST oRIGINAL dESIGN & tHE fRED gRAHAM can-dO sPIRIT aWARD
"We're two-hundred and eighty miles from the dock, sir!'
'Excellent,' the captain says, staring out the window at the ocean around them, 'We'll be able to deliver these cans in no time."
Suddenly the ship shakes aggressively, and alarms blast. The crew panics, like scared little boys after getting caught trying to sneak into a public pool after closing. The captain (apparently the only real man on the ship) seems to remain calm, hiding most -but not all- of the anger in his voice as he says, 'We've been hit by the enemy… These cans will never make it."
Join the war, against hunger! Join the greatest Navy around! Help us fight against the evil enemies! Based on the 1967 Milton Bradley board game, Battleship.  Our Canstruction features real moveable pegs. It is tall and elegant, and utterly stunning model of the board game. Sprinkled with deep, sparkling dark ocean waters and classic ships, this version of the board game is far from boring. Set up your Navy today, and join the war, or support the troops by voting for the best (and certainly most creative) structure here. We can assure you it will be deeply appreciated.  Help us Sink Hunger!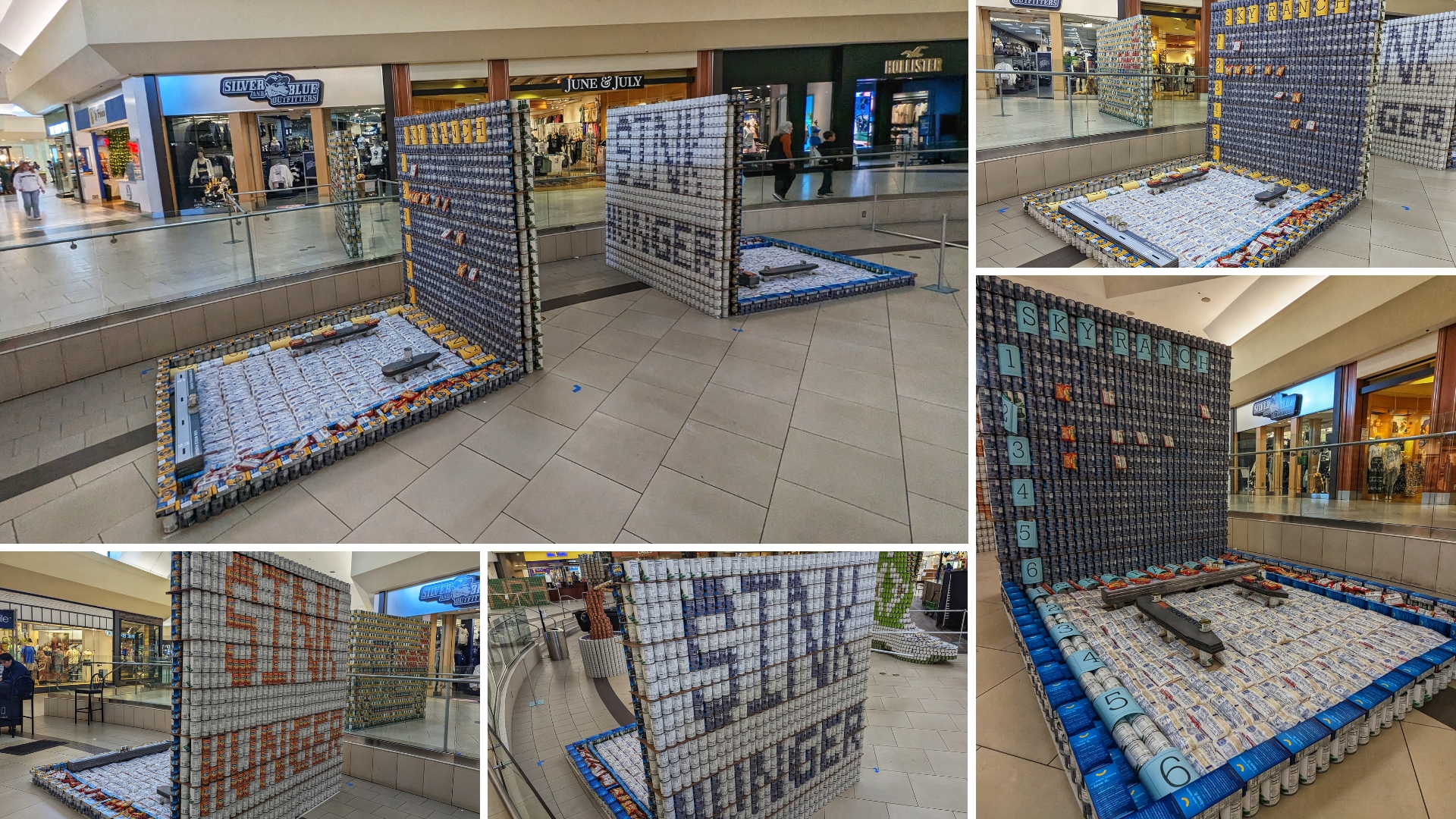 Team 11: HB Workplaces, One Studio Design + Architecture, Clark/Sullivan Construction, and Formgrey Studio | Cowboy Cahoots
WINNER: sTRUCTURAL iNGENUITY
A cowboy boot is designed with purpose. Its intent is to shield and withstand harsh environments, protecting the shins from thorns and bushes.  Similarly, an individual seeks opportunities to shield them from hunger and starvation.  Cowboy Cahoots is ready to "Give Hunger the Boot!" and protect those in famine with the creation of a western boot made of a variety of canned foods.  Shorter cans were used in the heel and vamp of the boot – we used jalapeno sauce and tomato sauce to achieve this curve, with the use of white gravy packets to cover the silver can tops.  The southwest inspired embroidery of the boot stands out in lime green against the white background – green beans, corn, diced tomatoes, and peas make up the white background with jalapeno bacon pinto beans standing out in lime green.  The use of black colored cans – ranch style beans- were incorporated to define the scallop of the boot, with accents of white cans to define the pull straps.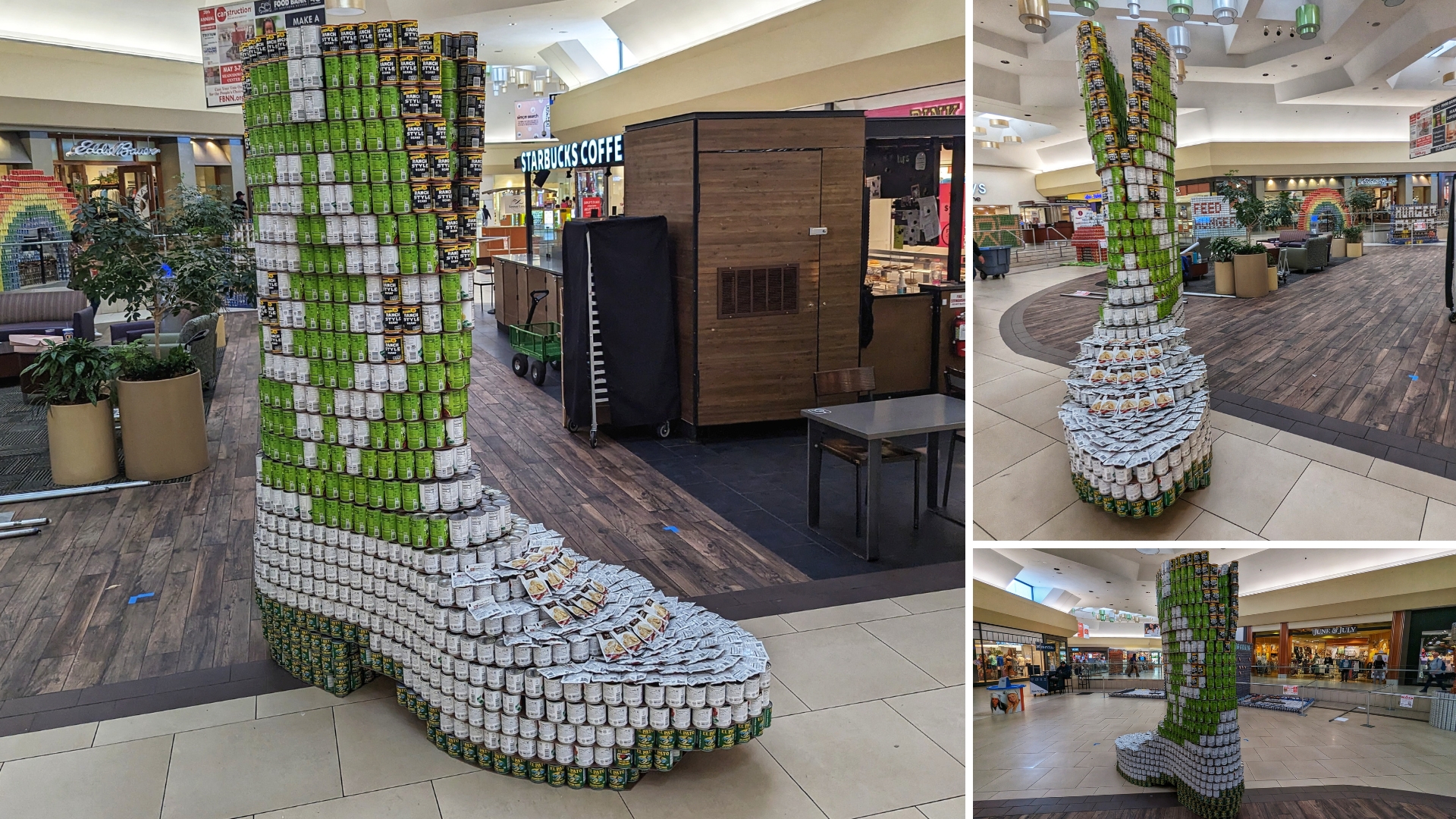 Team 12: Food Bank of Northern Nevada Board of Directors | TRUCKING HOPE TO THOUSANDS
This structure depicts the Food Bank of Northern Nevada logo . . .  a truck loaded with nutritious food. FBNN trucks distribute to a network of 150+ partner agencies in a 90,000 square mile service area throughout 13 counties in northern Nevada and 10 California counties on the eastern slope of the Sierras.  We serve over 130,000 people each month, nearly half of whom are children and seniors.
Children not getting proper nutrition have serious additional problems that affect their lives. Hungry children are sick more often, struggle in school, and children under 5 can have developmental delays that stay with them throughout their lives.  Nearly two-thirds of our neighbors being helped have a household income of less than $20,000 a year.  People who have worked their entire lives are struggling to put food on the table, often having to choose between housing, transportation, medical costs, utilities, and food.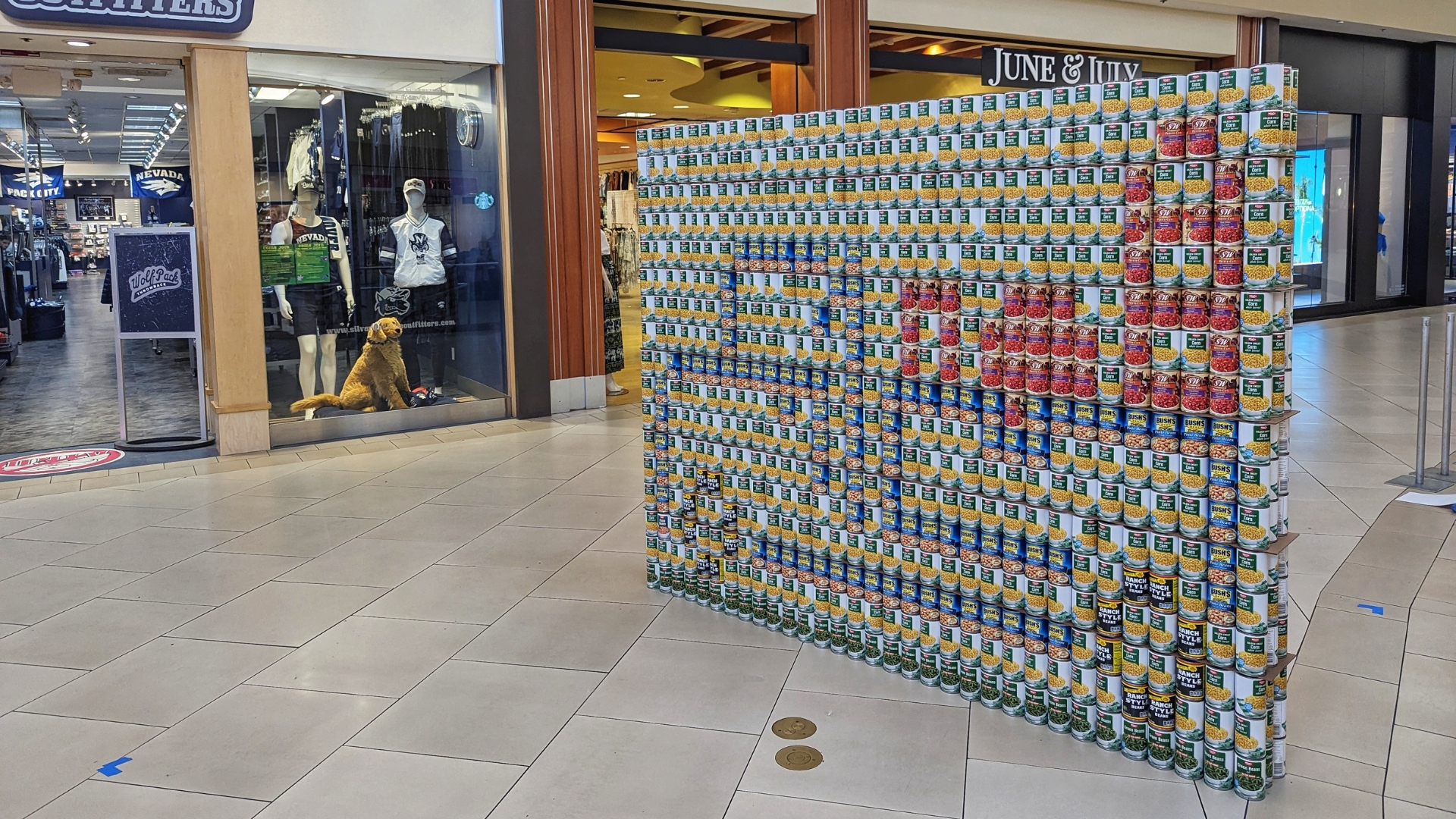 Team 13: Natchez Elementary School 5th Graders: Team Mighty Mustangs | Pyramid at Pyramid Lake
Our CANstruction sculpture is a representation of the natural remnants left over from the ancient Lake Lahontan. Measuring 350 feet at its deepest point, Pyramid Lake is approximately 27 miles long and 11 miles wide and the geographical sink for the Truckee River. It is home to the Pyramid Lake Paiute Tribe, the cui-ui fish (found only at Pyramid Lake), and world class fishing. Please visit our museum in Nixon, NV to learn more about our amazing community.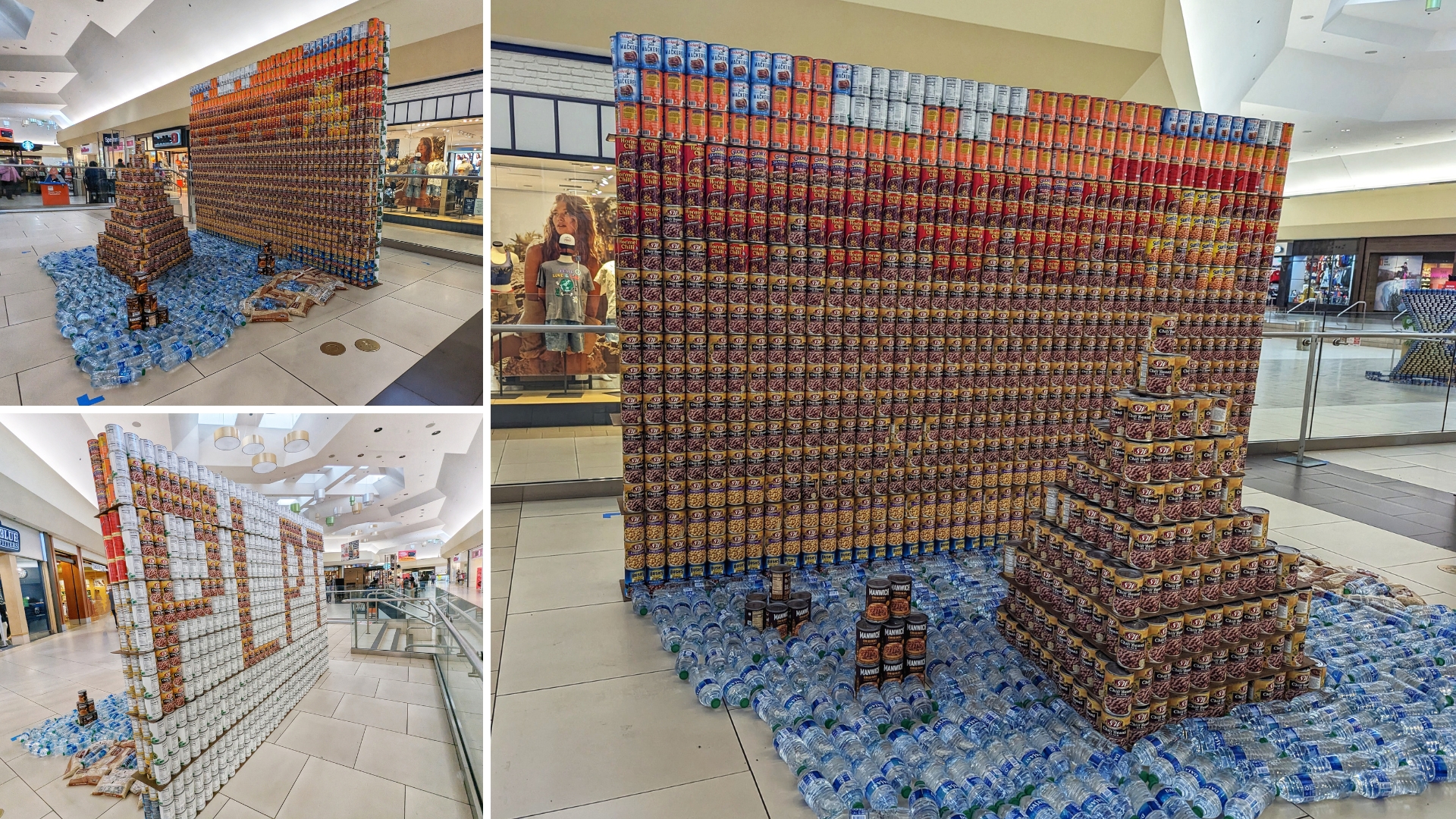 Team 14: Natchez Elementary School 5th Graders: Team Pookoo | Pyramid Lake Stone Mother
WINNER: bEST mEAL
Our CANstruction sculpture, represents the cultural significance of the Pyramid Lake Paiute Tribe. Paiute legend tells us that the Stone Mother's tears filled Pyramid Lake as she wept for her children whom she sent away. In her despair, she and her basket turned to Stone. Hear the legend told by Ralph Burns, a Pyramid Lake Elder (told in both Paiute and English).
The back side of our CANstruction sculpture is a tribute to raising awareness for Murdered Missing Indigenous Women (MMIW). This movement advocates for an end of violence toward Native Women. May 5th is the national day of awareness for MMIW. For Indigenous girls, ages 1-4, murder is the 2nd leading cause of death. Violence accounts for 75% of deaths for indigenous youth ages 12-20.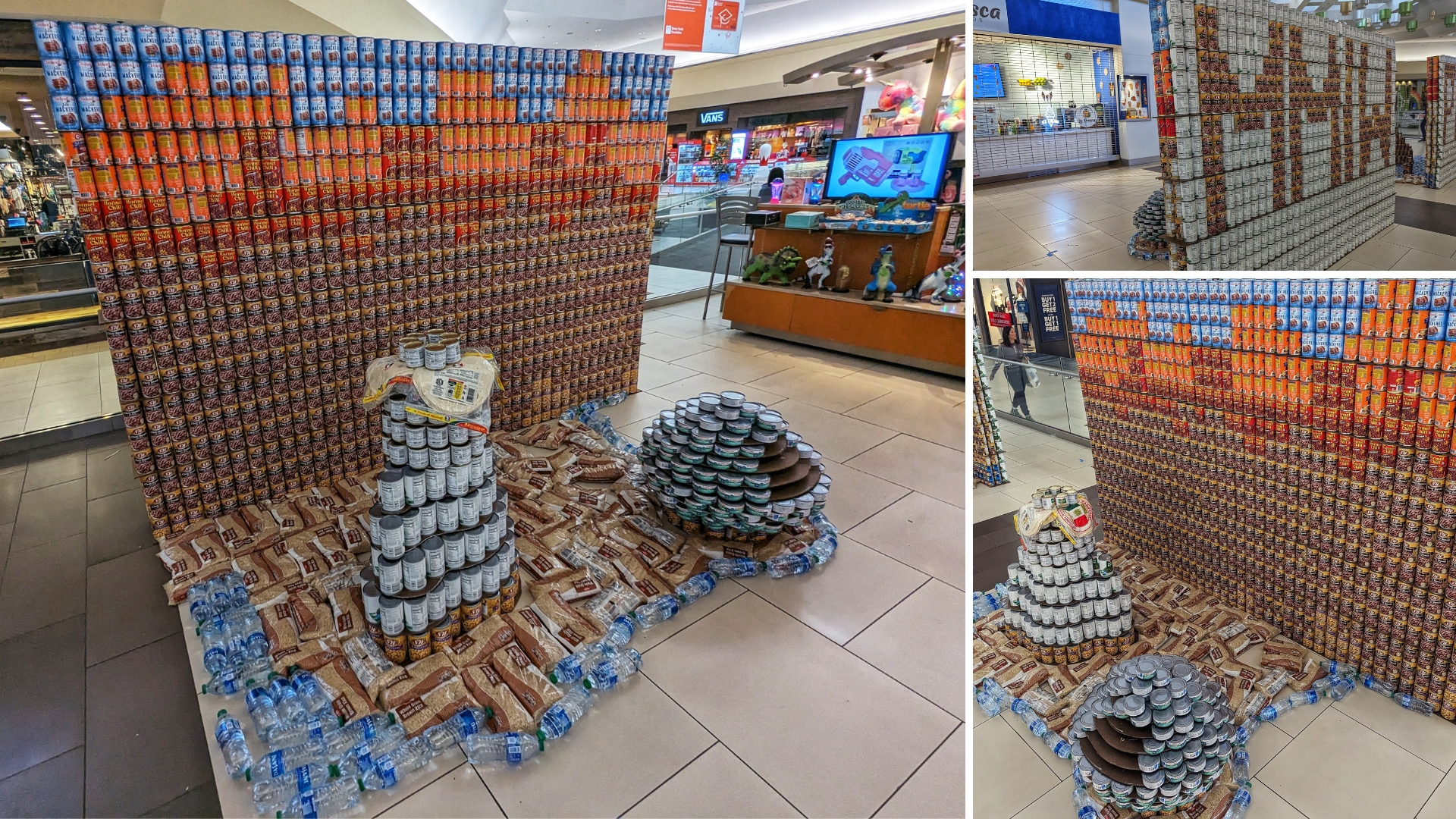 Team 15: Cathexes Architecture | The Hourglass of Action
Our CANstruction sculpture, entitled "The Hourglass of Action," is a powerful representation of the urgent need to address climate change and food disparity, two pressing global issues that are inextricably linked. Comprised of Tuna and Progresso soup cans, this striking hourglass model reminds us that time is of the essence when it comes to implementing policies and solutions for the future generations.
The choice of canned food items is a deliberate one, as it emphasizes the important role that sustainable food production and consumption play in mitigating climate change and reducing food disparity. Tuna, a popular and nutritious seafood, reminds us of the need to protect and conserve our oceans, which are directly impacted by climate change. Meanwhile, Progresso soup represents the importance of ensuring that nourishing meals are accessible to all, regardless of their socioeconomic status.
Our hourglass symbolizes the idea that "time is now" – a potent reminder that the clock is ticking, and we must act without delay. As the sands of time flow from the top chamber to the bottom, we are urged to come together and find innovative ways to protect our planet, its resources, and its inhabitants. Through this captivating visual representation, we hope to inspire everyone to recognize the urgency of the situation and take steps towards a more sustainable and equitable future.
In conclusion, "The Hourglass of Action" seeks to raise awareness about the critical need for action on climate change and food disparity. By participating in this CANstruction project and donating the canned food items to a local food bank, we also aim to directly contribute to the well-being of our community. We believe that, together, we can make a lasting impact and build a brighter future for generations to come.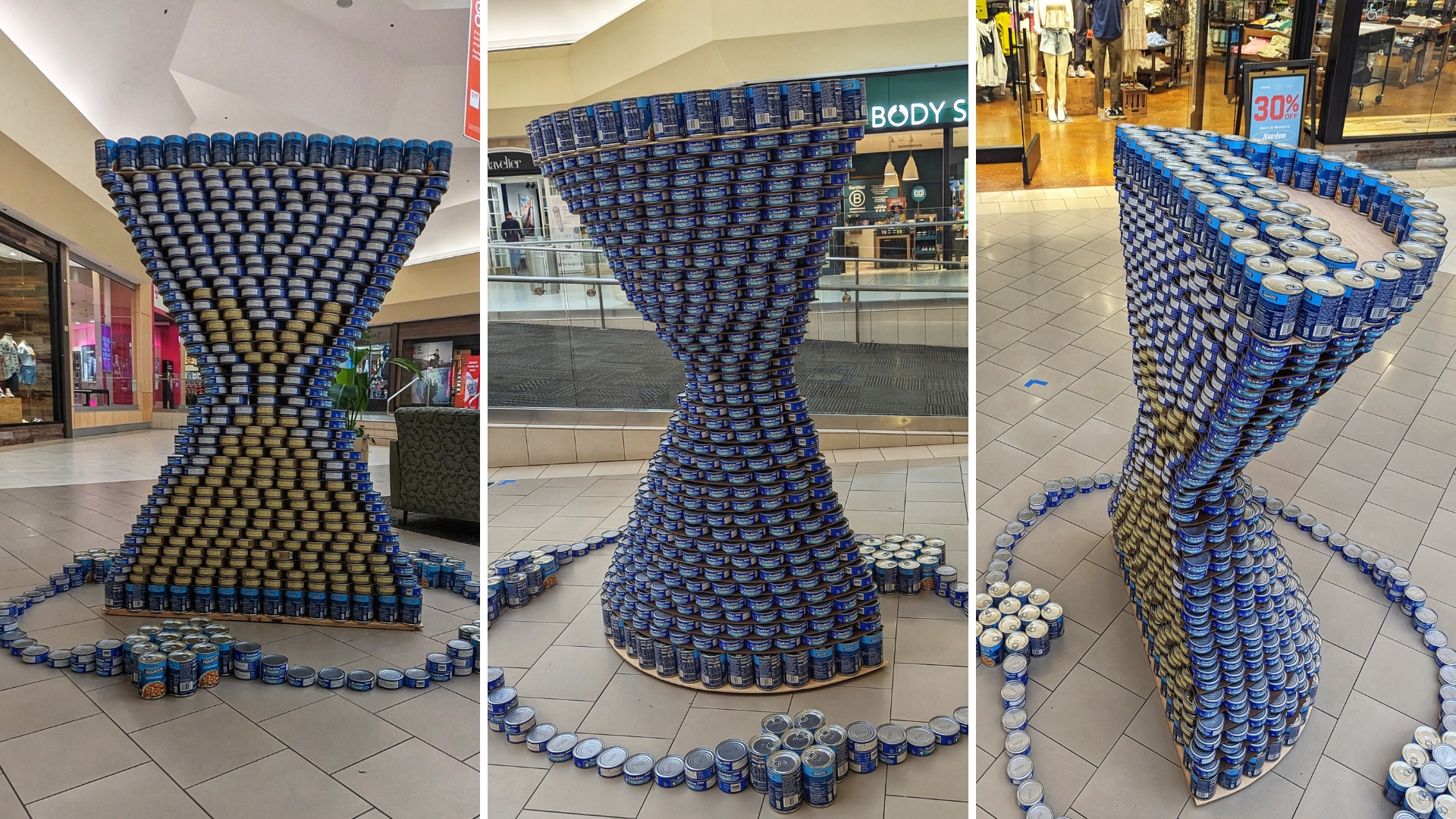 ---
CANstruction is organized by American Institute of Architects of Northern Nevada and made possible by Trivium Packaging, Hawkins & Associates, Inc, Northern Nevada Building Trades Development Corp., Fred & Janice Graham, and CREW Northern Nevada.  CANstruction is also supported by Meadowood Mall, WinCo Foods, and Freeman.