---
The 18th Annual CANstruction Reno Design & Build Competition, benefiting the Food Bank of Northern Nevada, is here!
This year, 9 teams will use more than 23,000 cans to masterfully create canned food structures that will leave you wondering "HOW did they do that?!"  When the structures are taken down, all the food used to create them will be donated to the Food Bank, providing more than 17,000 meals for our neighbors in need.
It all begins with a 12-hour building day on Wednesday, May 19.  Structures will be up for viewing at Meadowood Mall through Sunday, Mary 23. One very important and highly sought award will be up to YOU – the People's Choice Award will be presented to the team with the most votes cast during the week-long voting campaign.  Online voting opens at 8am on Wednesday and closes at 6pm Monday, May 24. Every vote costs $1, with all proceeds from voting benefiting the Food Bank of Northern Nevada.
UPDATE: Please note that People's Choice voting has ended for the 2021 CANstruction event.  
Team 1: Marce Herz Middle School | RISE Above Hunger!
WINNER: Most Cans (5,712 total cans) and People's Choice
Let's send hunger UP, UP, and away! The students of Marce Herz Middle School are Relentless, Innovative, and Empowered. By assisting the Food Bank and helping those in need of food, the students can earn their S badge for being service-oriented and RISE above hunger! With big dreams like Carl and Ellie, MHMS students will be building the "UP" house out of cans and there is no telling where the adventure to end hunger will lead.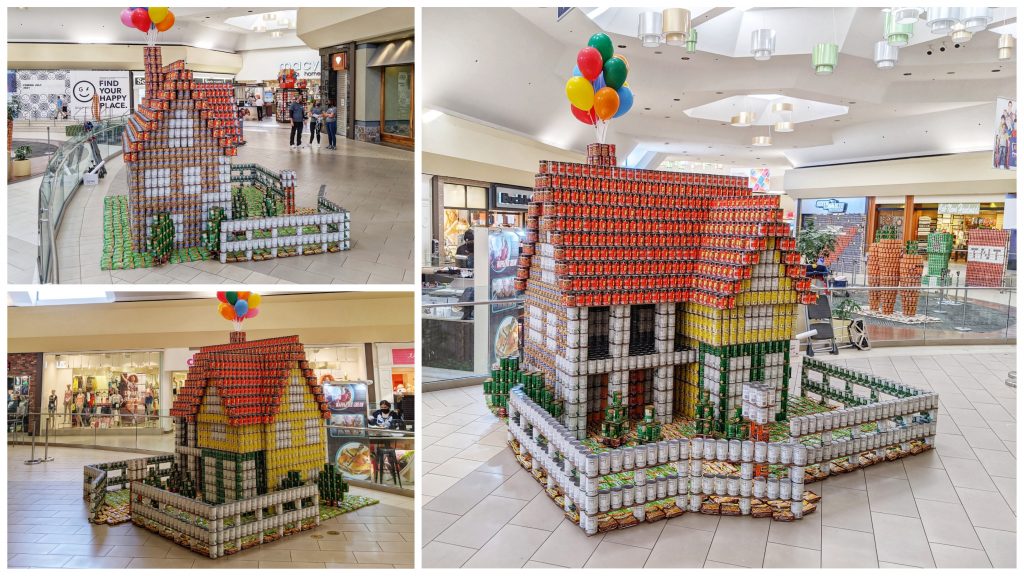 Team 2: North Valleys High School: AFJROTC | Air Force Fights Hunger 
We've created a depiction of a C-130 air dropping pallets of food for those in need. The pallets of food, dropped using a large parachute, can be delivered to areas during natural disasters and other emergencies. The United States Air Force, Air Force Reserves and Air National Guard often contribute resources and personnel during natural disaster relief efforts such as hurricanes and tornados. Our design pays tribute to that mission and those who serve.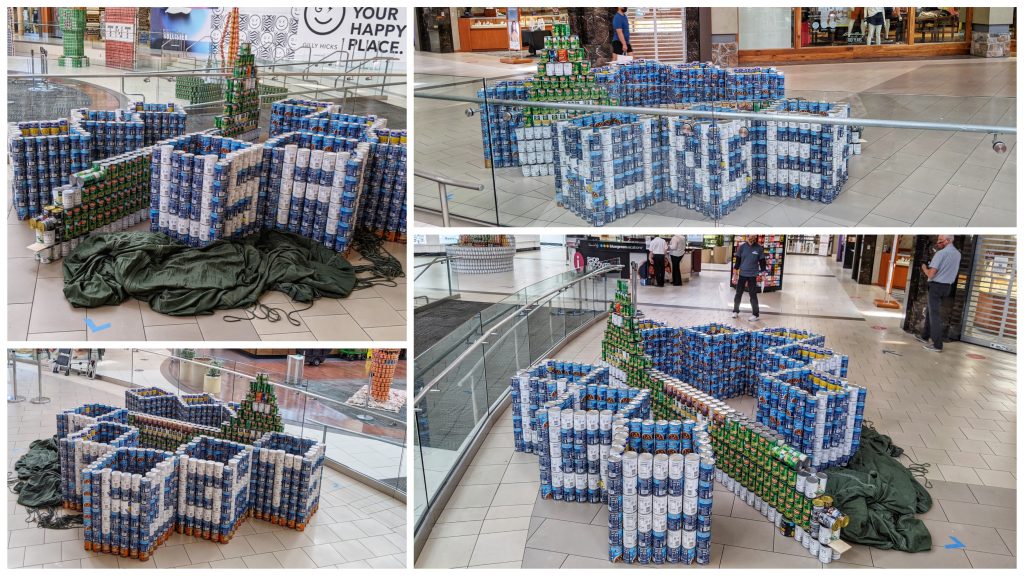 Team 3: Pack 46/Trivium Packaging | Not Baby Yoda
WINNER: Best Use of Labels
We've created everyone's favorite character from the outer rim, Grogu (or more affectionately, but not accurately called, Baby Yoda). Grogu is depicted in the manner in which we first met him, in the egg shaped carrier that floated behind Mando. We used whole potatoes to outline the bulk of the carrier with chili cans to accent the interior. Light tuna gives Grogu his distinct greenish skin and roast beef hash for his small brown robes. Chicken, tuna, and salmon round out Grogu's detailed appearance.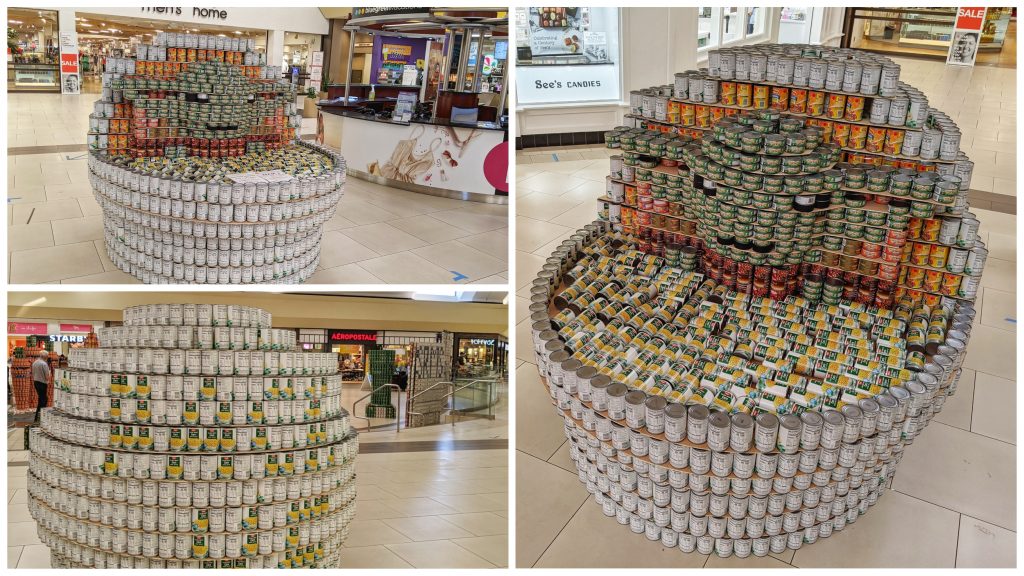 Team 4: AT&T Pioneers| Blossom
WINNER: Structural Ingenuity
Our flower-like representation signifies thriving new life and a better tomorrow. Just as 2021 overcomes 2020, growth and renewal are unfolding for the flower. We chose design curvatures of green, red, yellow, and white. Green representing the strong and healthy leaves of the flower. A sturdy red pot to nourish the flower's steady growth cycle. And vibrant yellow to display the bold and robust blossom. To plant a garden is to believe in tomorrow. 2021 is our year of growth and progression.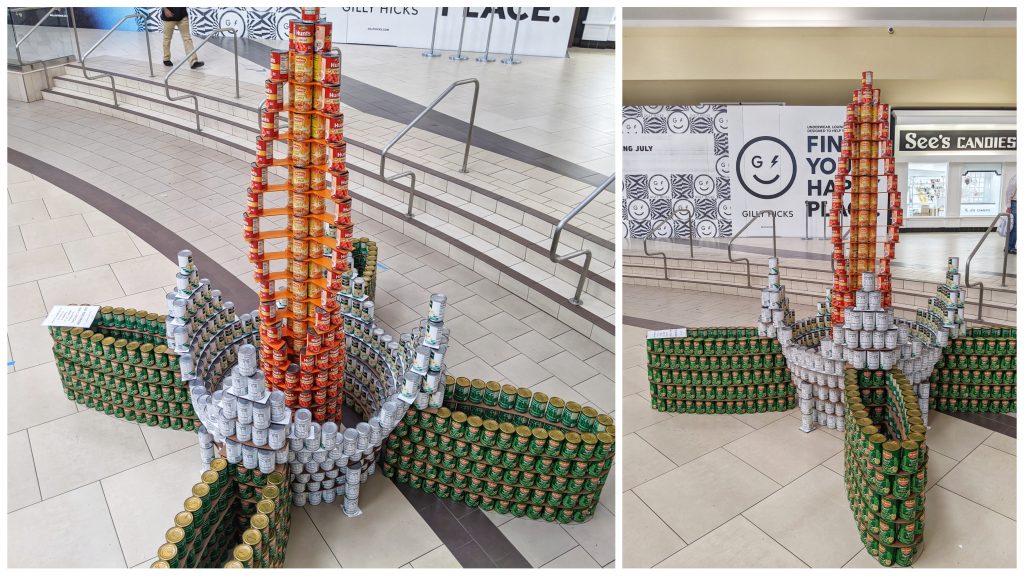 Team 5: Sky Ranch Middle School blue team with pk electrical| mine-can creeper
WINNER: Unique Design
We've created a mind-blowing structure, literally! Minecraft is a sandbox video game.  Creepers are fictional enemies that attack by exploding near their targets, and are also one of the main antagonists of the game. TNT is an explosive block that can be placed to generate an explosion. You can catch sight of our Creeper in the front. If you glance in the back, you can see a huge backsplash of a TNT block. There is a huge assortment of spinach cans, fire roasted diced tomatoes and full tomatoes.  So get you're armor on, and head into the Minecraft World with our structure!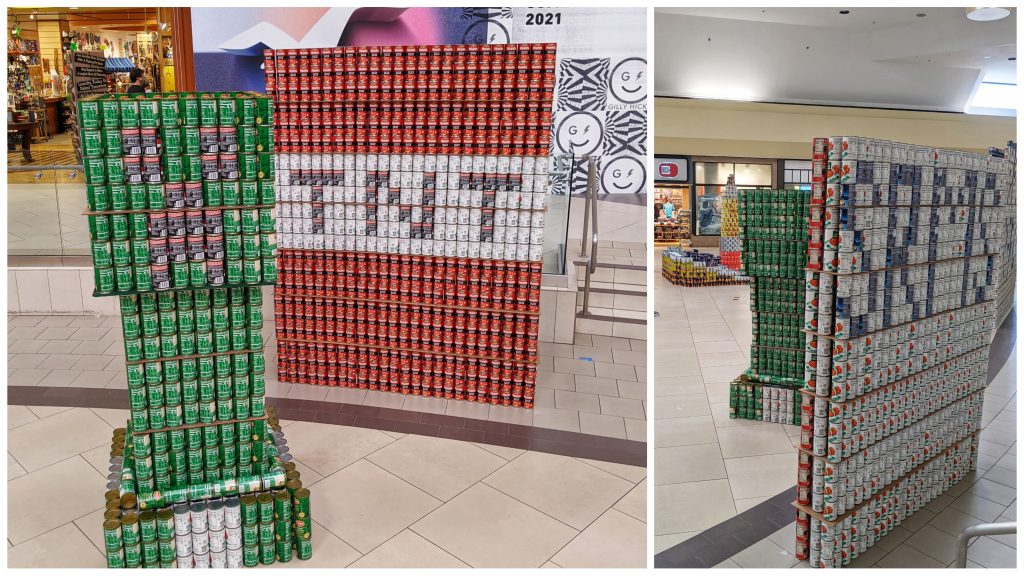 Team 6: Sky Ranch Middle School Orange team with pk electrical| Ti-CAN-ic
On a cold night in April of 1912, this massive ship sank in the Atlantic Ocean after it tragically tore a hole on the starboard side of the hull on an iceberg, going at speeds of 20 knots. In our structure, we have brought history back by building the image of Ti-CAN-ic. With our structure, we used a 2 dimensional art design to recreate this historic scene. The ship in our piece is shown at a diagonal to show the sinking, and the colors match that of the real thing.  Vote for our structure and sink hunger!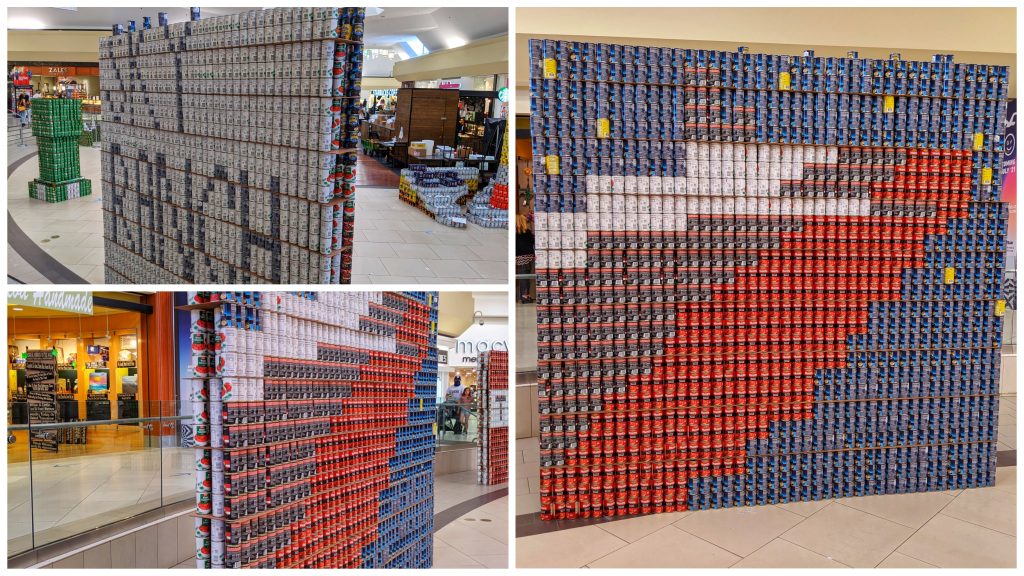 Team 7: FBNN Board of Directors| Erasing Hunger
The overarching mission of the Food Bank of Northern Nevada is to feed the hungry today and solve hunger for tomorrow.  Working together, we CAN ensure our community has access to healthy and nutritious food for every person, every day!  Our neighbors in need juggle increased housing, medical, and transportation expenses and struggle to put food on the table.  It will take more than sharpening our pencils to address these issues.  We need to use the other end of the pencil to erase hunger…forever!
The FBBN Board of Directors dedicates the 2021 CANstruction in honor and memory of fellow Board Member and Vice Chair, Ben Hayes.  Ben served on the FBNN Board for the past four years.  He was, first and foremost, an advocate for children and passionate about our child nutrition programs.  We remember his leadership, friendship, and humanity.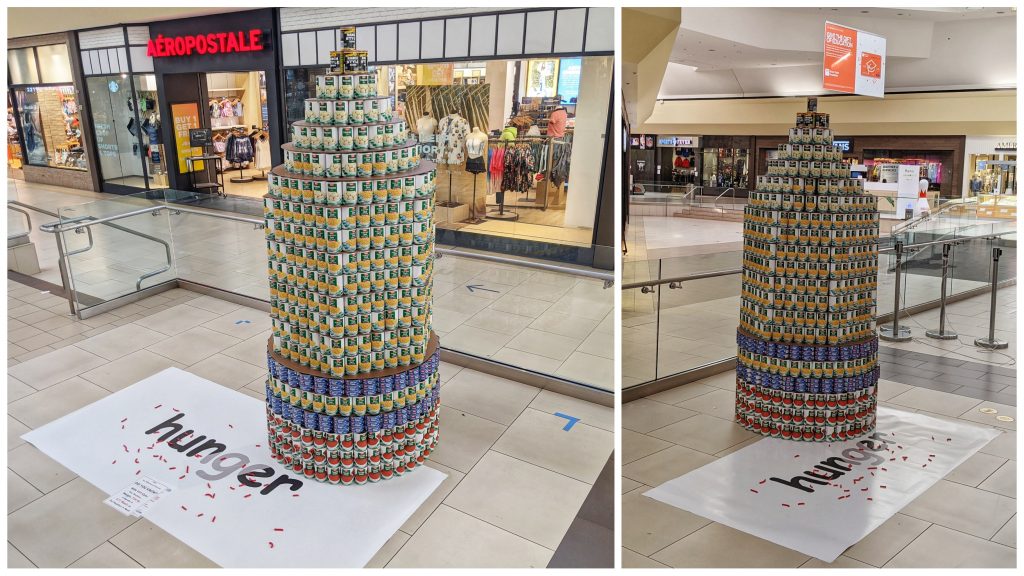 Team 8: CDS/Collaborative Design Studio| Recipe for Disaster
WINNER: Best Meal
2020 will go down as a year of infamy. Nothing seemed to go right, and things got worse and worse as the year went on. This describes our project perfectly, erasing 2020 but all elements of the structure have a flaw. The paper has ripped in half while erasing the year and the tip of the pencil is also broken, making both elements unusable. The pencil being the iconic point of the structure is made up of olives, diced tomatoes, tomato puree, and sardines. The paper base is made up of green beans, carrots, peas, mandarin oranges, pears, and peaches.
As we look back over the past year, we can all agree that what happened will always be remembered and certain points of the year are more memorable than others (MARCH!!). All the people affected by the Pandemic and those needing food we hope this structure can refuel you and bring a better future to all.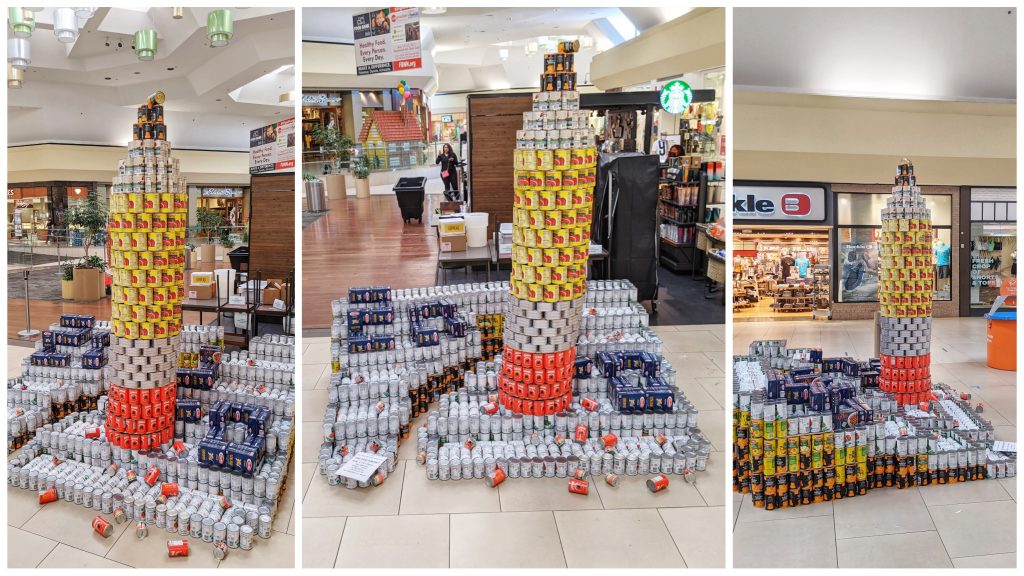 Team 9: FBNN Staff| Thanks a Bunch for Showing Just How Much you Carrot
There are big smiles under these masks as we root for all of the amazing teams who have joined us for this year's CANstruction Reno competition.  In a year like no other, our vitamin-packed, nutritious carrots and their fruit and veggie friends have filled more tummies than ever before.  Along the way, they've kept our vision sharp and helped us to see reminders all around of the difference we can have together when we all take carrot of one another.  All punny business aside, we know the recovery is going to be slow for those hit hardest by the economic effects of the pandemic, but with the help of this wonderful community we can get through this together.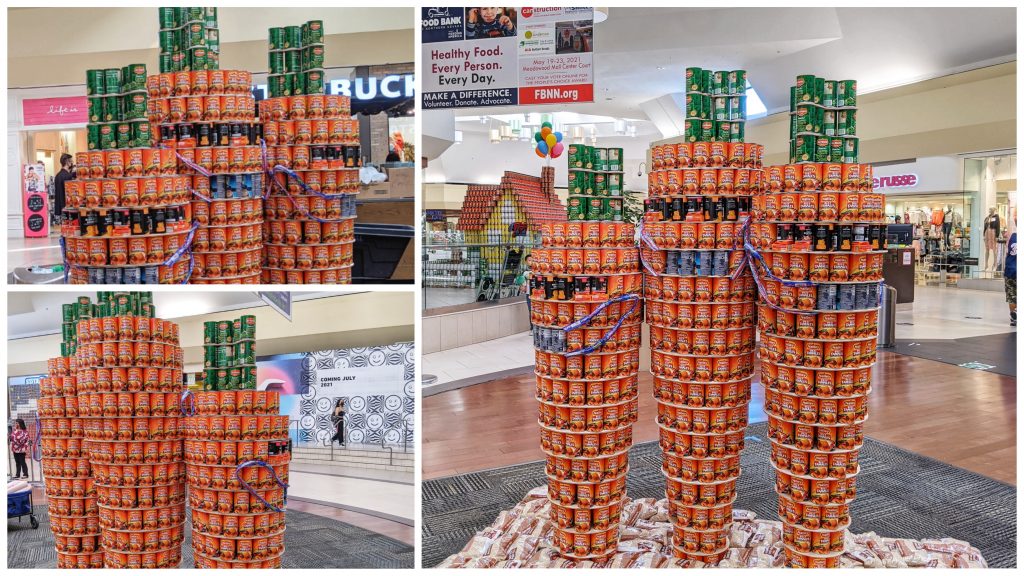 CONGRATULATIONS TO ALL OF OUR AWARD WINNERS!  
---
CANstruction is organized by American Institute of Architects of Northern Nevada and made possible by Presenting Sponsor Growing Smiles Pediatric Dentistry, CANstruction Awards Presenter John Anderson Construction, Clark/Sullivan Construction, and Fred & Janice Graham.  CANstruction is also supported by Meadowood Mall, WinCo Foods, Freeman, Cooks Photography, and Nevada Blue.