update:
CANstruction 2016 has wrapped up, and we are so excited to share that it was definitely the best year yet!  Eleven teams competed this year, bringing a total donation of an astounding 23,582 cans of food to the Food Bank.  This year's structures were truly awe-inspiring, giving both our jurors and the People's Choice voters some tough choices to be made.  You certainly stepped up to the challenge, though.  In fact, more than 1,100 votes were cast for the People's Choice Award this year!
Please help us congratulate all of this year's winners:
Best Use of Labels:  CustomInk, with their Rainboot creating a ripple in a puddle of tuna.
Best Meal:  PENTA Building Group & Collaborative Design Studio, with their Dr. Who inspired "Hunger: EXTERMINATE!"
Structural Ingenuity: MBA Architecture and Interior Design, Clark & Sullivan, Lumos & Associates and Rotary Club of Reno, Midtown, with "Can Wars .. The Hunger Awakens", starring BB-8
Honorable Mention:  Jessie Beck Elementary, with a lot of passion in "CANPassion"
Jurors Favorite AND People's Choice Award:  Kendyl Depoali Middle School, with their Jolly Roger and "Arrr you Ready to End Hunger?"
---
VOTE. FIGHT HUNGER.
$1 = 1 VOTE = 3 MEALS
The 13th Annual CANstruction Reno event, benefiting the Food Bank, is taking place at Meadowood Mall this week. The event kicks off on Wednesday, March 2 with a 12-hour build day, during which teams will construct their canned food masterpieces. The next evening, teams will gather at Meadowood Mall for an awards ceremony, where the winners of several categories, selected by a panel of judges, will be announced.  But one very important and highly sought award will be up to YOU – the People's Choice Award will be presented to the team with the most votes cast during the week-long voting campaign.
Every vote costs $1, with all proceeds from voting benefiting the Food Bank of Northern Nevada.  Voters will also be entered into a raffle drawing for some great prizes from Meadowood Mall retailers.
CAST YOUR VOTE TODAY!

Check out this years masterful entries, then cast your vote at the bottom of the page.
Team 1: Amazon Fulfillment | Peccy
We're 100% Peculiar and proud of it! It means we look at things a little differently. Amazon has been making history since it opened its virtual doors in 1995, with the mission to be Earth's most customer-centric company, where shoppers everywhere can discover anything they might want to buy online. From Jeff Bezos' garage to revolutionizing the way people shop and read, it's been quite a journey so far. Peccy, decked out in a vibrant display of mandarin orange slices, represents Amazon's quirky way of doing business.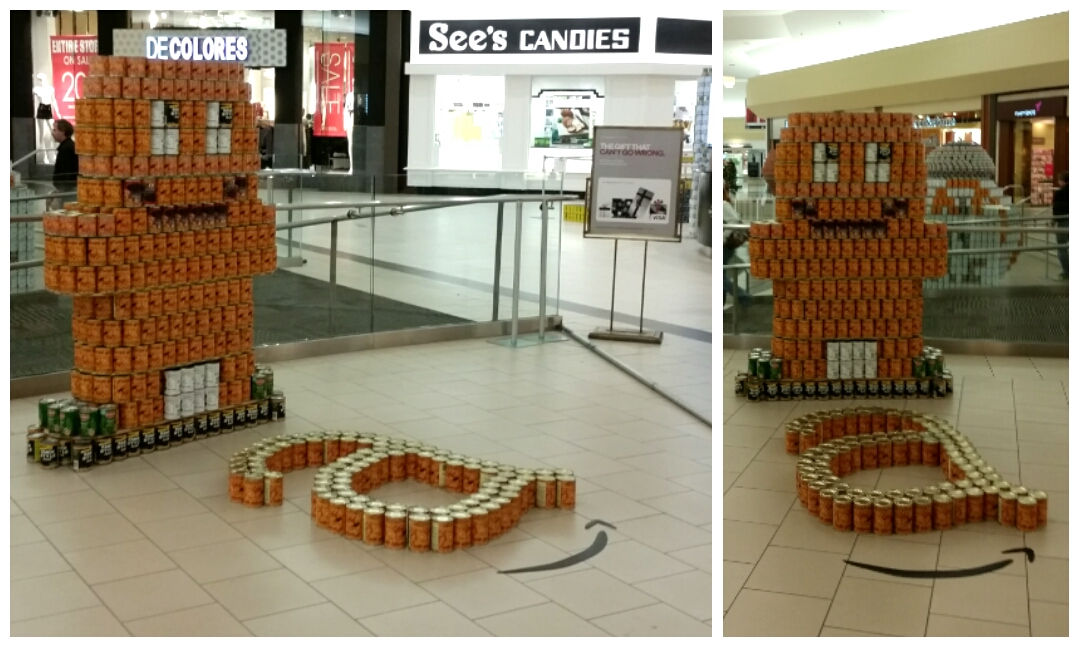 Team 2: cub scout pack 46/ardagh group | Pinewood Derby
We've recreated of one the most fun events that Cub Scouts everywhere look forward to, Pinewood Derby. The derby car, which is normally made from wood, is a great tradition. Each scout carves his wood block and paints it with loving care, all in anticipation of race day. We chose the peaches and Bush's Black Beans for their gold and blue colors which are the Cub Scout colors. We used the ranch style beans and the lays potato chips to mimic the black, plastic wheels of the pinewood derby cars.
The wall in the back ground contains the logos of the Boy Scouts, the fleur de lis in the bottom corner, and our sponsor, Ardagh Group.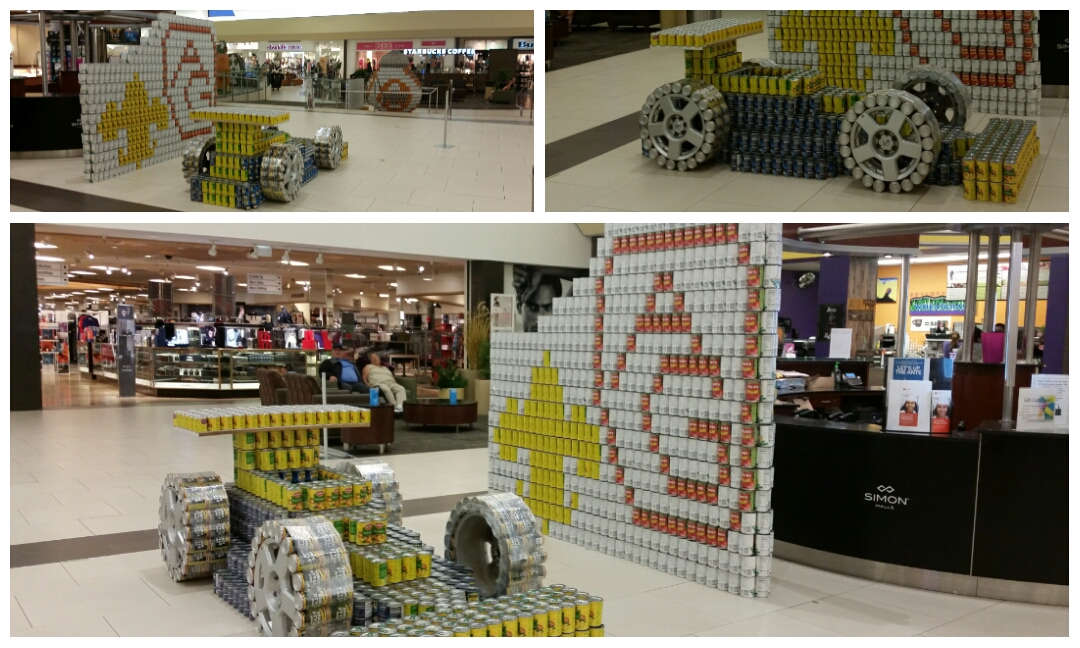 Team 3: CUstomink | Rain Boot
Our company's volunteer team voted to build this adorable red and white rain boot. The boot is making ripples through a rain puddle of tuna.  Hunts tomato sauce in two sizes, 8 oz and 24 oz make up the red portion of the boot while 18.8 oz Winco soup adds accent heart and stripe. The green stripe down the back of the boot is a simple adjustment of the Hunts' cans as a design element of a boot seam. 5 oz tuna cans laid in two directions make the rippling puddle.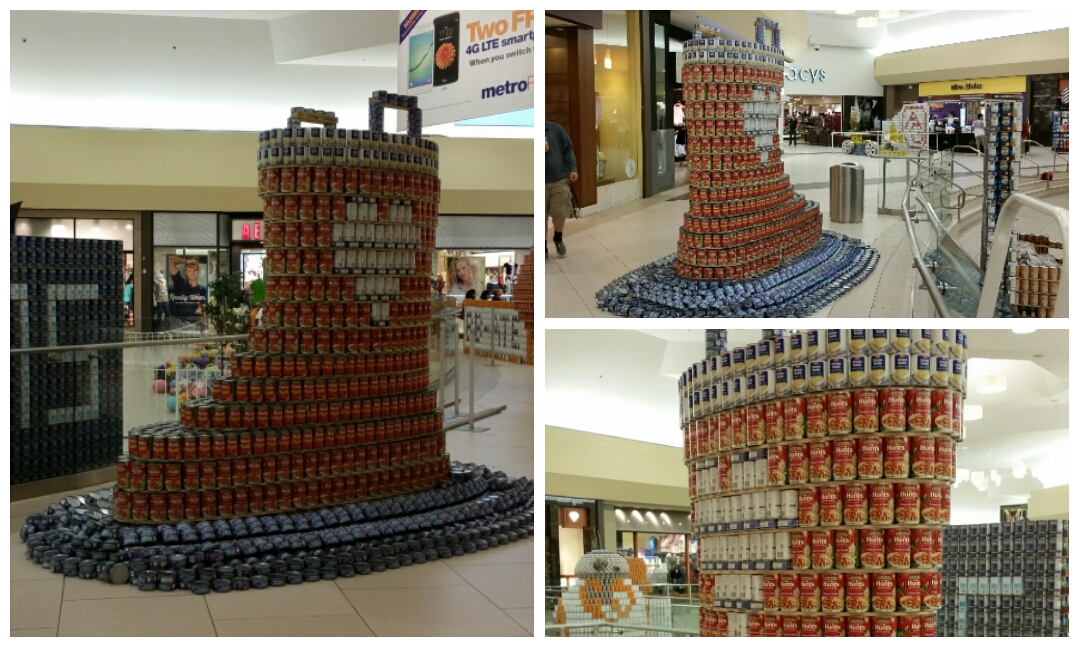 Team 4: Food Bank of Northern Nevada | You're the Apple of Our Eye!
CANstruction is one of those events that makes us at the Food Bank of Northern Nevada so grateful for the support we get from our amazing community. The event is a blast, and the structures are so amazing and the best part is the impact this event has on so many lives.  After the structures are built and the votes are cast, thousands of meals are sent into the community because of AIANN, the teams, the sponsors, the supporters, each and every people's choice voter.  These meals go to families, seniors and children who are not getting the nutrition they need and they transform lives.   So many people join forces to make CANstruction a success every year and each and every one of you are definitely, the Apple of our Eye!  Thank you so very much for your support.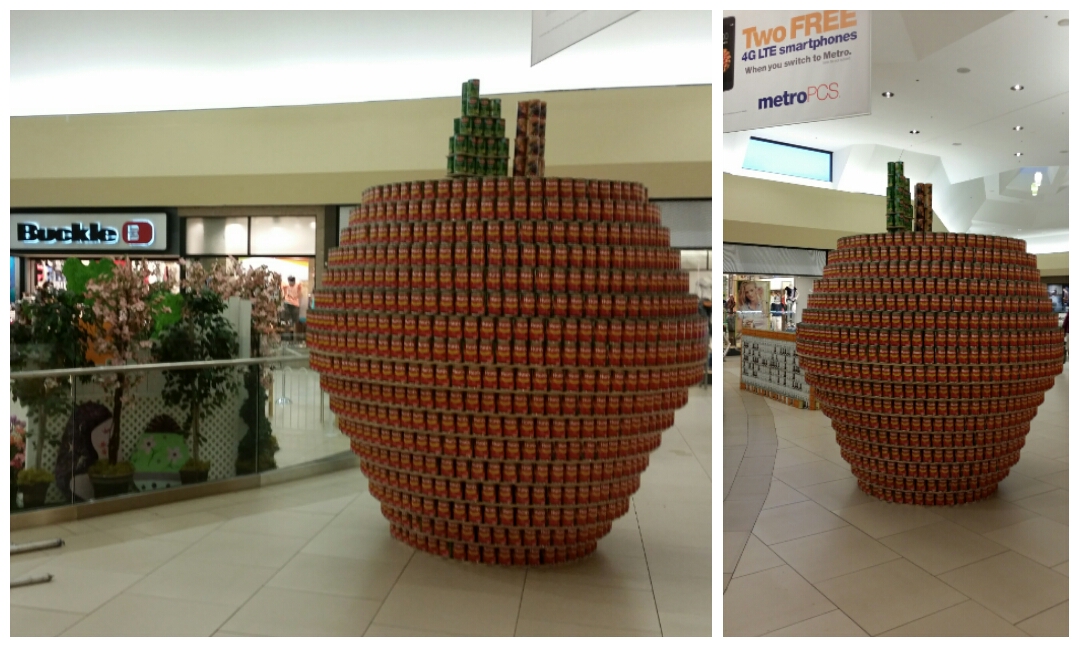 Team 5: GuiDenby, Inc. and Moirae Creatives | BB-Ate
BB-Ate because the Food Bank of Northern Nevada was able to provide him with canned goods from the CANstruction event. "Star Wars" fans will immediately recognize this character that we have created with a variety of foods including chicken soup, chicken broth, refried beans, black beans, diced green chiles, black olives, and mandarin orange slices. The black photoreceptor is modeled by a Udon Soup bowl and the antennae are made with tomato paste. And as you can see from BB-Ate's shape, he is happily full of canned goods. No starving robots on our watch!
Our BB-Ate was modeled after a remote control toy BB-8. We knew that transforming canned food into a replication of a round toy with multiple colors would be challenging, but we also know everyone would appreciate the results. So, please meet our new friend BB-Ate, and join him in supporting the Food Bank of Northern Nevada.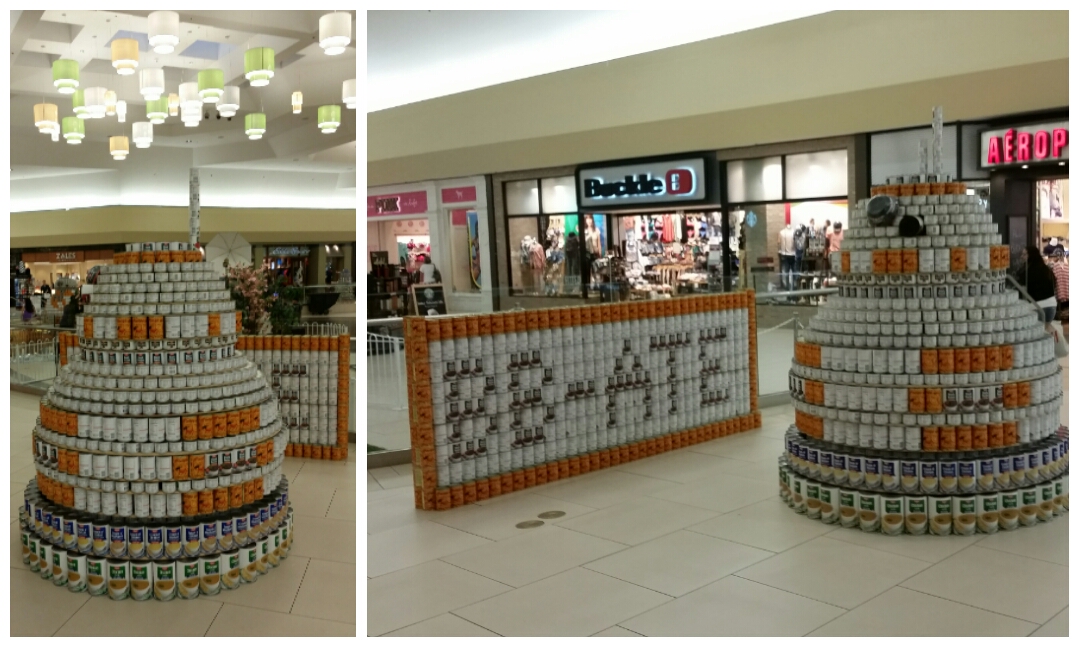 Team 6: Harrah's Reno | TIME TO STOP HUNGER
There is no greater time than Big Ben, and no greater time to stop hunger than right now!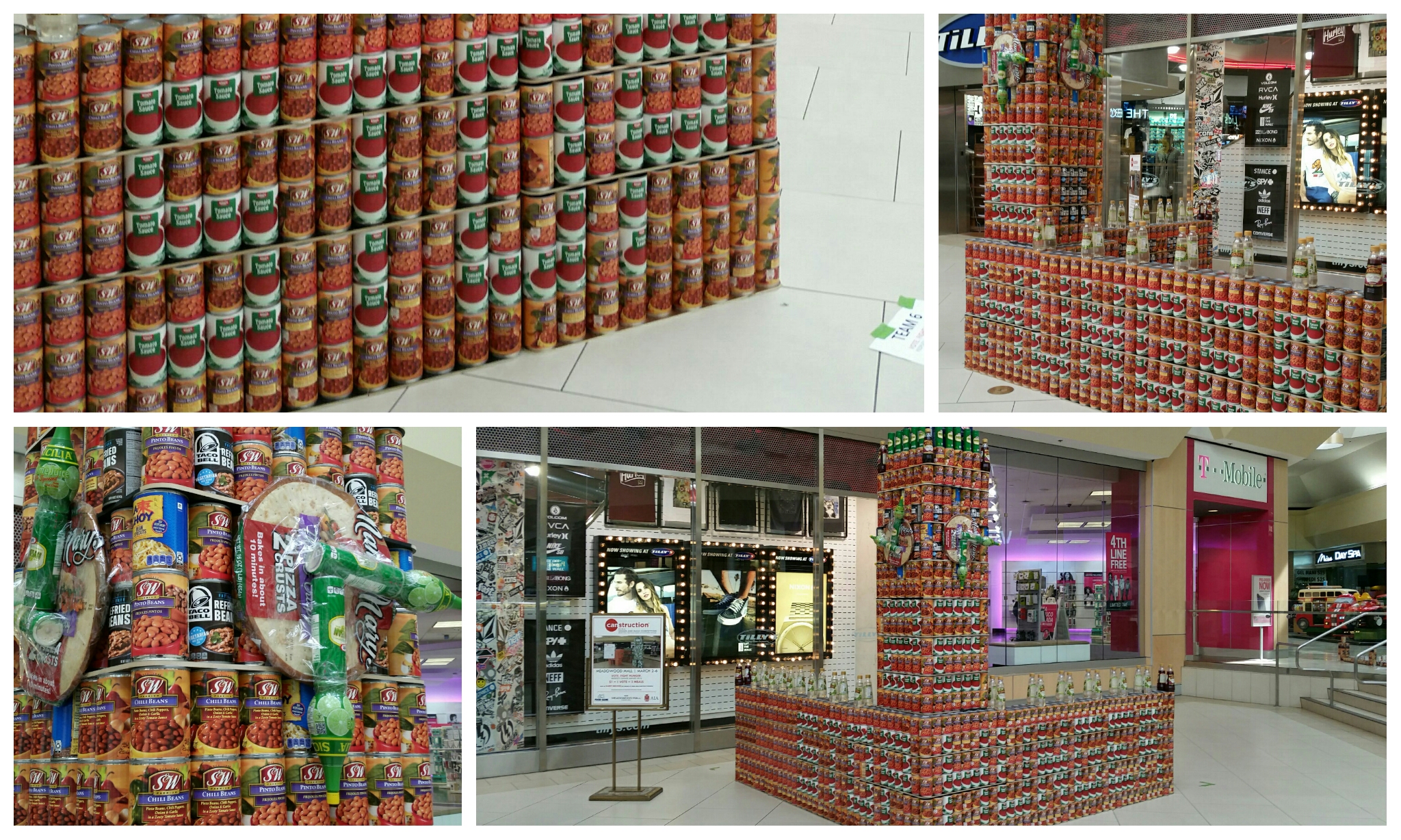 Team 7: Jessie Beck Elementary School | CANpassion
1 out of 4 children in Nevada goes hungry.  The Food Bank of Northern Nevada does amazing things every day to help reduce these numbers.  In fact, the Food Bank feeds over 100,000 people a month!  The students at Jessie Beck Elementary school and the wonderful architects at TSK Architects, have decided that they CAN make a difference too!  These two groups have come together to CANstruct something that will not only bring attention to this problem, but will also help to inspire others to SHOW SOME CANPASSION!!
The CANPASSION structure is over 8 feet tall, almost 6 feet in length, and 10 feet wide.  That's a lot of CANpassion right there!  There are over 2,000 cans that make up this giCANtic beauty!  "Is it nutritious," you ask?  You CAN bet your bottom dollar!  There are over 200 cans of spinach and almost 1000 cans of beans!  Not only are they HEART healthy but they CAN be enjoyed around the Campfire.  In the end, we had a great time building this structure and CAN truly feel the CANPASSSION.  Every CAN of food that went into this structure will go to help those in need.  And remember, you too CAN show some CANpassion!
Team 8: Kendyl Depoali Middle School | Arrr You Ready to End Hunger?
Ahoy, me Heartie! Whether sailing the seven seas or swashbuckling the hallways of Kendyl Depoali Middle School, KDMS is collecting bounty to patch up the world and end world hunger. The students of KDMS are calling for all hands on deck and asking "Arrr you ready to end hunger?" Together we "CAN" hoist the main sails and set a course to fill a treasure chest of pirate booty for the Northern Nevada Food Bank.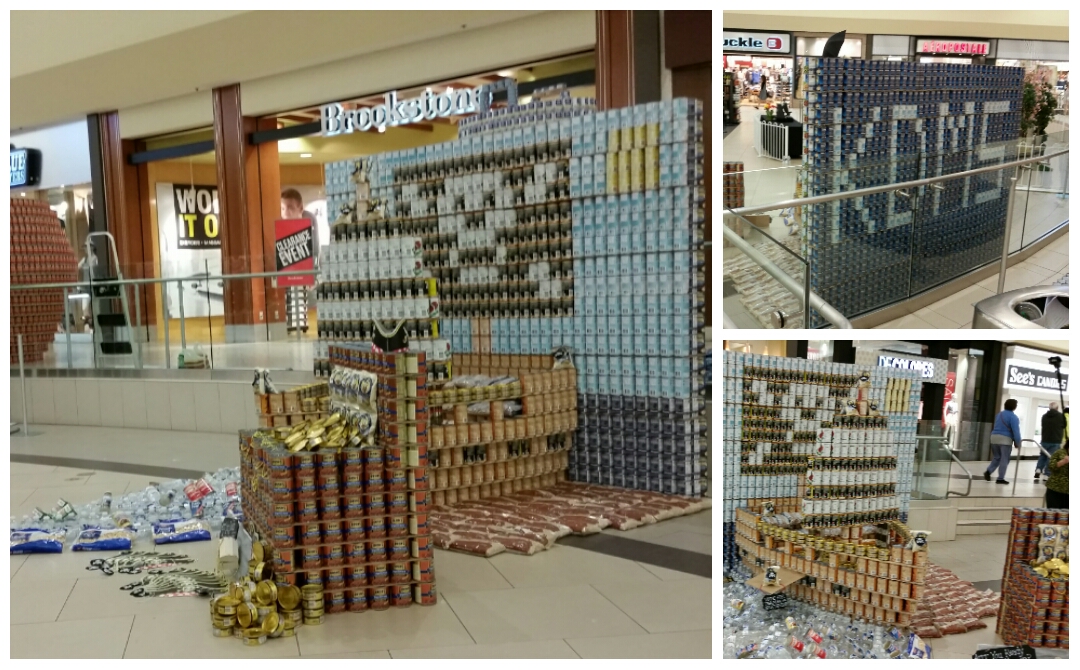 Team 9: MBA Architecture + Interior Design, Clark/Sullivan Construction, Lumos & Associates, Rotary Club of Reno Midtown | Can Wars…the Hunger Awakens
Across the galaxy, the sinister forces of HUNGER ravage bodies and minds. The darkness rises from the invisible fissures of humanity and it is an immovable force; or at least that is how it would appear.
A great power emanates from HUNGER and it never rests. Bands of citizens gather the resources to fight this ominous foe; but it will not be easy.
Together we can rise up against the evil heart of HUNGER and push it back into the darkness from which it was born. Together we can awaken the fight against HUNGER and together we can prevail.
This is the droid you seek: BB-8.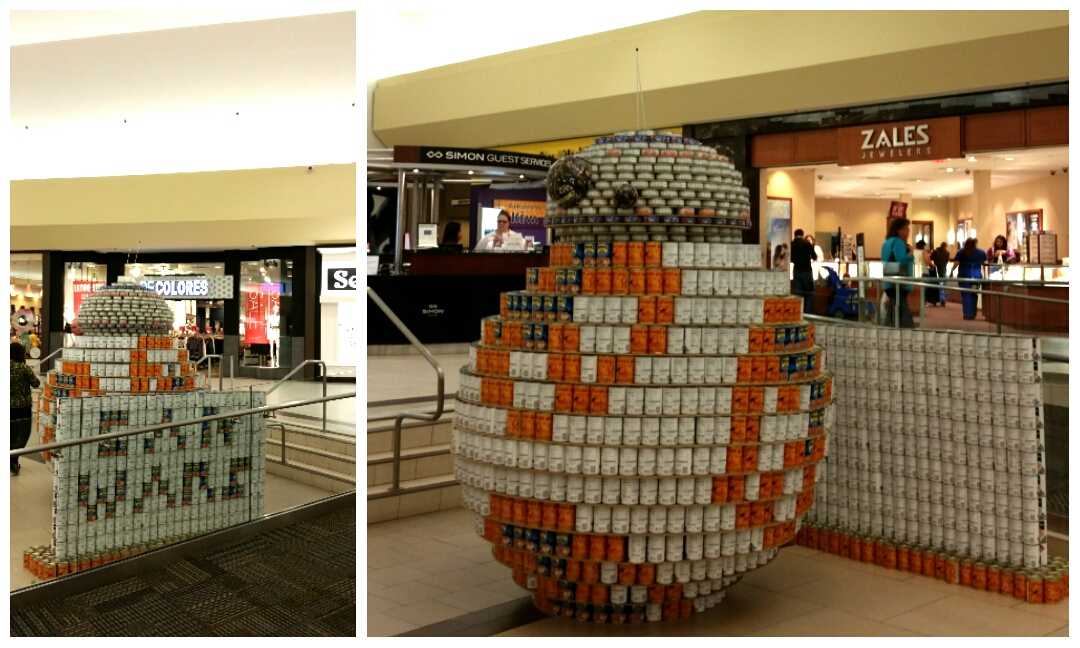 Team 10: The PENTA Building Group / Collaborative Design Studio | Hunger: EXTERMINATE!
The Hunger Dalek is an extraterrestrial creature that's only goal in life is to exterminate Hunger. This robot-like creature is merciless in its pursuit to eradicate hunger. It will stop at nothing to attain its conquest on its greatest adversary, join the Hunger Dalek in its pursuit to purge the universe of its greatest foe once and for all!
Our structure is based on the fictional extraterrestrial robot from the popular science-fiction television show "Dr. Who."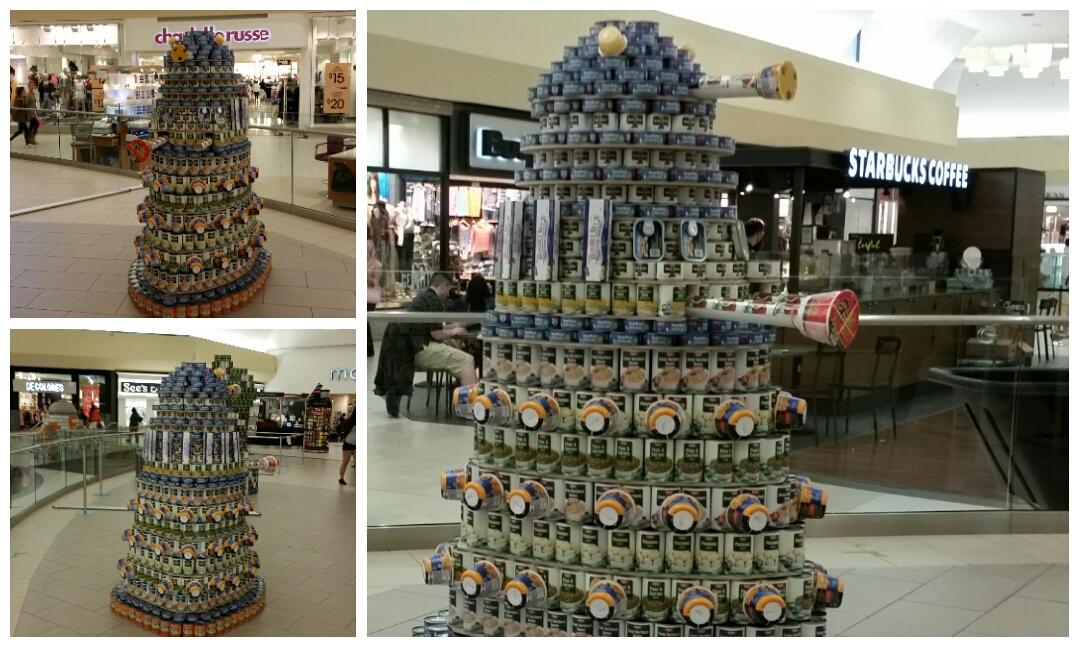 Team 11: TMCC | Yumshi!
The TMCC Architecture students have re-created an image of the classic Super Mario character Yoshi, and he looks super hungry!  Fortunately, some food is on the way.  The name Yoshi in Japanese means "Great," and he is great in many ways from his size to his appetite.  This made him an easy source of inspiration for our CANtasticstructure.  Our great big design is over 8′ tall and over 14′ in length and is comprised of uniform cans of varying color and content, with enough nutrition to help him power up. Thank you again to all our sponsors, both big and small, for helping us say 'Game Over, Hunger!'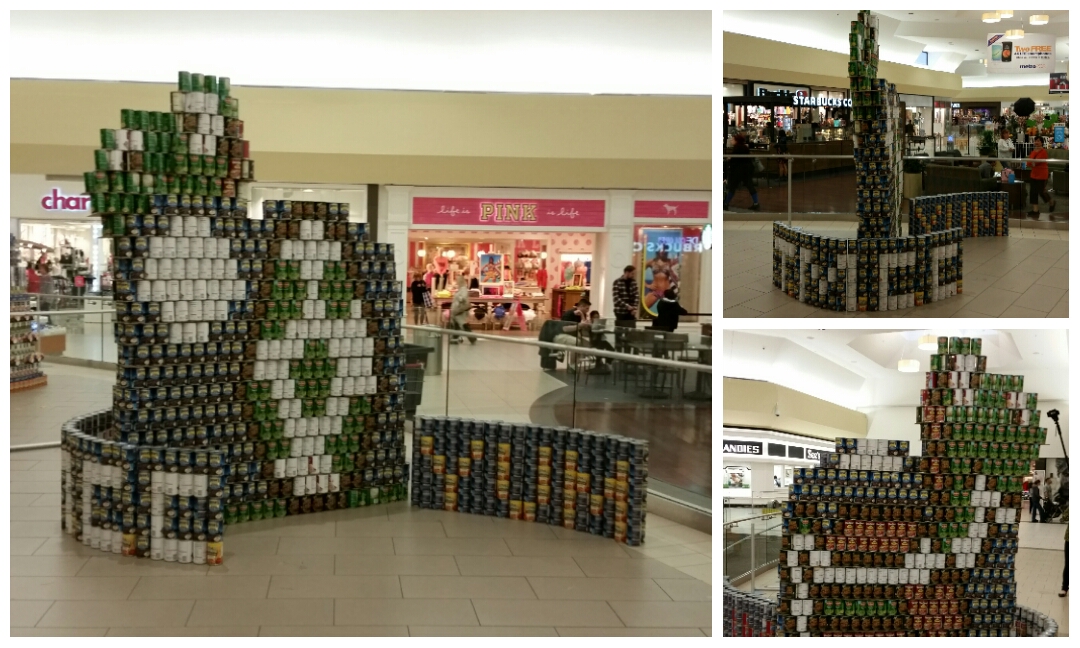 Who gets your vote for People's Choice?
PLEASE NOTE:
Online votes are cast in increments of 10. Votes of other quantities may be cast in person at the Guest Services desk at Meadowood Mall.
Voting begins at 10am on Wednesday, March 2, as structures are being built and voting at Meadowood Mall closes at 7pm on Sunday, March 6.  Online voting continues until 6pm on Tuesday, March 8th. The winning structure will be announced by the Food Bank of Northern Nevada on Wednesday, March 9.
---
SPONSORS: AIANN | Fred and Janice Graham | John Anderson Construction | JR Romero Architect | Shanna Licata | Western Nevada Supply | Kinross Gold
SUPPORTERS: Meadowood Mall | Alice 96.5 | Connie Wray | Winco South Reno | Freeman Decorating | Cooks Photography | Digiprint | Nevada Blue | Silver and Blue Outfitters | KTVN – News 2