We're looking forward to another great year with our annual Partner Agency conference.  This year's theme will center around the role that hunger organizations can play in creating a healthy community for all of our neighbors.  Register below to attend.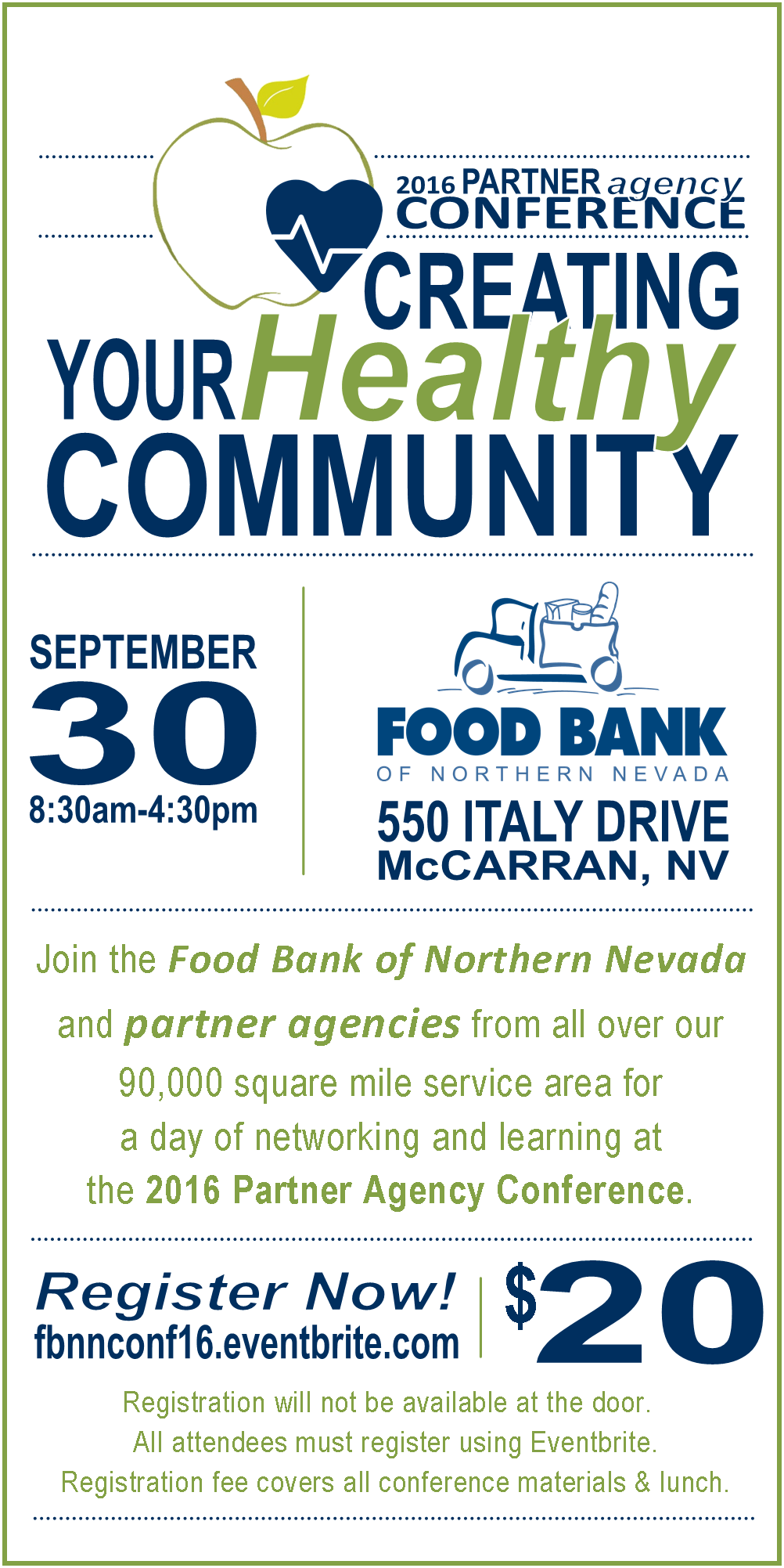 [agencyconferenceeventbrite AgencyConagencyconferenceeventbriteferenceEventbrite=""]
Presented By: Shane Piccinini
The Food Bank of Northern Nevada will present a workshop on the history and philosophy of the war on poverty and what the future of these programs might bring.  Participants will explore how four decades of national anti-poverty legislation and policy have shaped, challenged and, ultimately, reinforced the unique role and responsibilities assigned to the social safety net.
SNAP Outreach 101 – Presented By: Marisol Martinez and Zach Lewis
The 2014 Hunger Study indicated that 62% (14,736) of households being served by our network were not receiving SNAP (food stamp) benefits. Of those 62%, nearly 12,000 households (88%) were likely income-eligible to receive SNAP benefits. The Food Bank's Outreach program targets hard-to-reach populations, such as Latinos and seniors, and works to overcome objections to SNAP and to debunk common myths.  Join us to learn more about the Food Bank's SNAP Outreach program and to discuss how we can work with you to assist your clients who would like to access SNAP benefits.
Presented By: Laura Urban
Have you ever been drawn to a display of fruits and vegetables at the grocery store? They look beautiful and more appealing in those baskets; don't they? Makes you want an apple…doesn't it? What about those samples at the grocery store; how often have you bought a food because you were able to try it?  These are just a couple of tactics used by grocery stores to push products. Use these same techniques to push healthy "Foods to Encourage" at your pantry! Not only are these little nudges easy to implement, it's inexpensive and doesn't require much planning. Do your part in making a difference in your clients' health and wellbeing by making it easier for them to make healthy choices; they might not even realize it!  Join the Food Bank's Nutrition Education Coordinator, Laura, to learn more about "Foods to Encourage" and how to use nudges in your pantry.
Presented By: Aramelle Wheeler
Join this session to learn some best practices and tips about getting the most out of your social media strategy for your organization.  Learn how to engage your audiences with great content that will keep them coming back, while you increase your reach and get people talking about your issues.  Your supporters love stories about your work, your volunteers, and your clients.  Get and share ideas about how to collect powerful stories from those you serve to show your impact in the most meaningful and relatable way.
Presented By: Shane Piccinini
This workshop will help explain the regulations and guidelines governing activities related to influencing public policy and voter engagement while working as a 501(c)3 charitable organization.   Your organizations can build effective strategies to influence all levels of government while remaining in compliance of the law.
Presented By: Jenny Yeager
In this workshop, we will review the Partner Agreement, review Agency Express and identify grey areas when it comes to what we can and cannot do with donated food.  In addition, we will review Oasis (a client based software program) and help you determine if it would benefit your program.
Presented By: Cassie Moir, Laura Dickey, and Sarah Peter<
This session will be an informative and fun presentation on financial coaching and what it can do for your clients.  We will cover budgeting, goal setting, follow up and accountability.