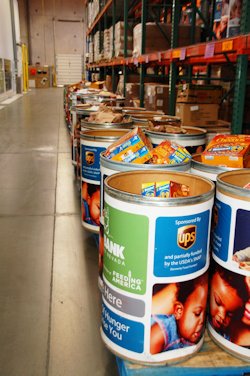 Each month, the Food Bank of Northern Nevada helps to feed more than 95,000 neighbors in need in our community, and food and monetary gifts donated by caring community members are a vital part of making that happen.
We are excited to have the opportunity to partner with you and will provide you with the tools that you need to make your drive as successful as possible. Hosting a public drive?  Let us know, and we'll be happy to help you publicize it.
Hunger Doesn't Vacation – Summer Food Drive Challenge
Did you know? About 50% of our food drive donations are received in the months of November and December during the holiday season, but hunger happens all year round. Help us collect healthy food for our neighbors this summer!  It's a competition – Host a food drive between July 1 and August 15! The organization that collects the most food will win donuts (for up to 60 people) donated by Rounds Bakery!   To schedule your delivery and pickup dates, fill out our form here and we will get back to you with a confirmation (barrels are delivered and picked up every Monday and Thursday). 
Two Food drive options, one great impact
Collect non-perishable pantry staples with a traditional food drive:
 Submit the
Food Drive Request Form
, and we'll get your food drive scheduled.
Raise funds for securing produce and other fresh foods with a virtual food drive:
 Did you know? Nearly half of the food distributed by the Food Bank is fresh produce.  It's an important part of our vision for the future:
Healthy food. Every person. Every day.
 With a virtual food drive, you can raise funds to help us bring healthy, fresh fruits and vegetables to neighbors in need throughout the year.  And your dollars raised go a long way.  In fact, every $1 donated helps us provide 3 meals.  
Get started with your virtual food drive by visiting our page on Crowdrise
.
Food Drive Tips
We have found that the most successful food drives include incentives and themes
Here are just a few ideas on engaging employees, customers and event participants.  Let us know what you are planning on doing to incentivize your food drive, and we'll be happy to help you spread the word.
Set a goal! An example is five pounds per person.
Consider a friendly competition! Challenge other departments or groups to see who can raise the most food and funds.
Award donors! If the goal is reached reward, with a free lunch, pizza party or a casual dress day.  Give certificates to departments that generate the most food.  We are always happy to email you the amount of pounds donated the day after we receive the food.
Take a field trip! Ask your department or group to tour the Food Bank of Northern Nevada.  We are available for tours M-F during business hours; please call us to schedule.
Sponsor a Raffle! The cost of a raffle ticket is one can of food.
Specify your food drive! Select one or two of our most needed food items.  Come up with a catchy team name like People for Peanut Butter, Team Protein, Bean Duty, etc.
Create a theme for a specific healthy meal – It can be based on just about anything:
Souper Bowl – collect soup before the Super Bowl
Give from the Heart – Heart-healthy foods
March Madness – Organize a basketball shootout for hunger; entrance fee is canned food
Hunger Doesn't Take a Vacation (Summer)
Winter Warm-up– Stew and soups
Fill the Bag- Provide employees an empty paper bag and ask that they fill the bag
Giving Thanks Drive- Holiday food drive
Meat the Need- canned meats, tuna fish, stew
Rise and Shine– breakfast foods
A Taste of Italy– whole grain pasta and sauce
Most needed food items: 
Access to nutritious food is vital for our neighbors who face hunger, and we ask that those donating food choose the most nutritious items available whenever possible.  Please post this list to help your food donors determine what foods to donate.
Canned Meals: Stews, Soups, Spaghetti/Ravioli (Low-Sodium Preferred)
Protein: Peanut Butter, Tuna, Salmon, Chicken, Dried or Canned Beans
Grains: Whole Grain Cereal, Oatmeal, Brown Rice, Whole Grain Pasta
Fruits: Canned (Packed in 100% Juice or Light Syrup), Dried Fruit, Applesauce (No Sugar Added), 100% Fruit Juice Boxes
Vegetables: Canned (No Salt Added and/or Low-Sodium Preferred)
Dairy: Shelf Stable Milk
Kid-friendly Snacks: Granola Bars, Popcorn, Animal Crackers, Graham Crackers
Baby Products: Formula, Infant Cereal, Baby Food
Please encourage your donors to check expiration dates before donating food items.
If you have food and want to donate it at one of the sites that already have a food drive going, please view our list of ongoing food drive sites.
Contact Lauren Greeney, Events & Food Drives Coordinator at (775) 331-3663 ext 156.