Many have helped us meet the need during this very tough year but the Food Bank would like to take a moment to thank Dermody Properties for their gift, not only this year but for their support in this capacity each year since 2008. The Food Bank of Northern Nevada was the recipient of the $25,000 Capstone award that is providing 75,000 meals of fresh produce and necessary staples to children and families right here in our communities.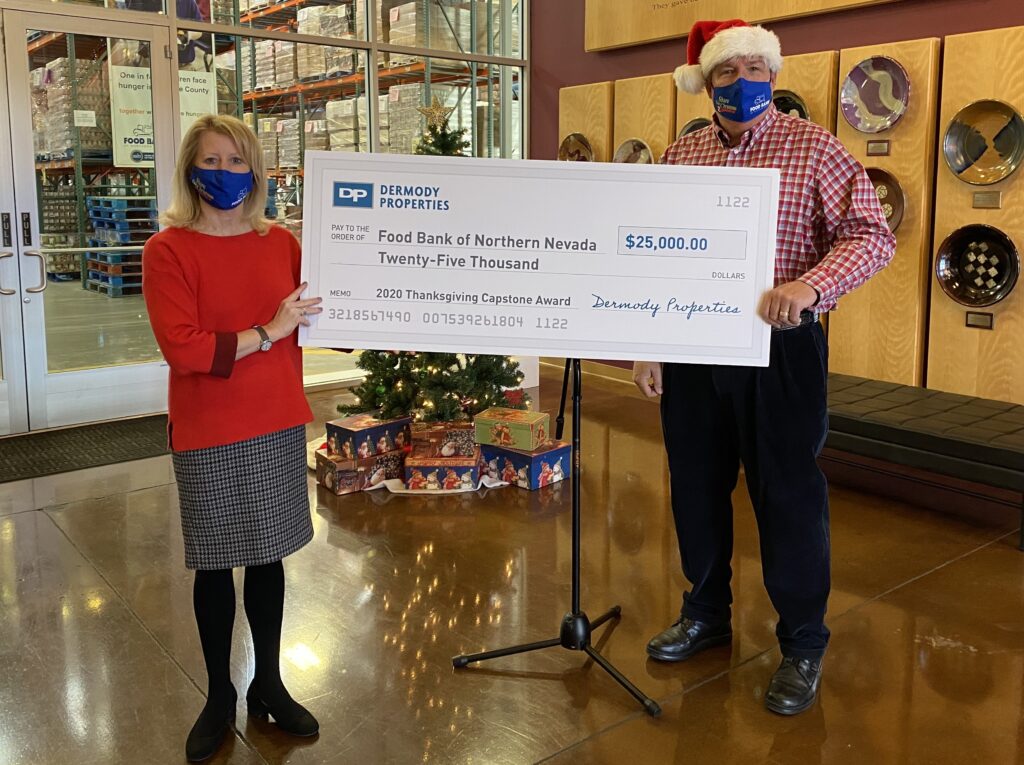 "We appreciate the support we receive from Dermody Properties each year," said Nicole Lamboley, president & CEO of the Food Bank of Northern Nevada. One of the things that impresses us the most about this long standing partnership is that Dermody Properties has such a commitment to fighting hunger in their own communities. They have recognized for years that access to nutritious food for children is essential to have a healthy community."
The gift is an annual tradition and $50,000 was awarded nationally this year.  Dermody Properties has shown a long standing commitment to fighting hunger in the communities in which they do business, with a significant emphasis on child hunger.  The company has been awarding the Capstone gift to the Food Bank of Northern Nevada annually since 2008.
The Dermody Properties Annual Capstone Award is uniquely directed each year by the executive management committee of Dermody Properties, which includes chairman and CEO Michael C. Dermody; president Douglas A. Kiersey, Jr.; partner and chief capital officer Kathleen S. Briscoe; chief operating officer Elizabeth Kauchak; chief financial officer Douglas Lanning; and partner and chief investment officer Timothy Walsh.
A study by Feeding America that was updated in October 2020, The Impact of the CoronavIrus on Food Insecurity, projects that the rate of child food insecurity will reach 32.3% in Nevada by the end of this year, which will tie us (with Louisiana) for the highest food insecurity rate in the nation.  This represents a 65% increase in child food insecurity in two years moving Nevada from 9th in the nation to 1st.